To get to your Submissions Dashboard, log in to eventhub.net and go to your My Event Hub Page.
Next, click on Manage Submissions for your event.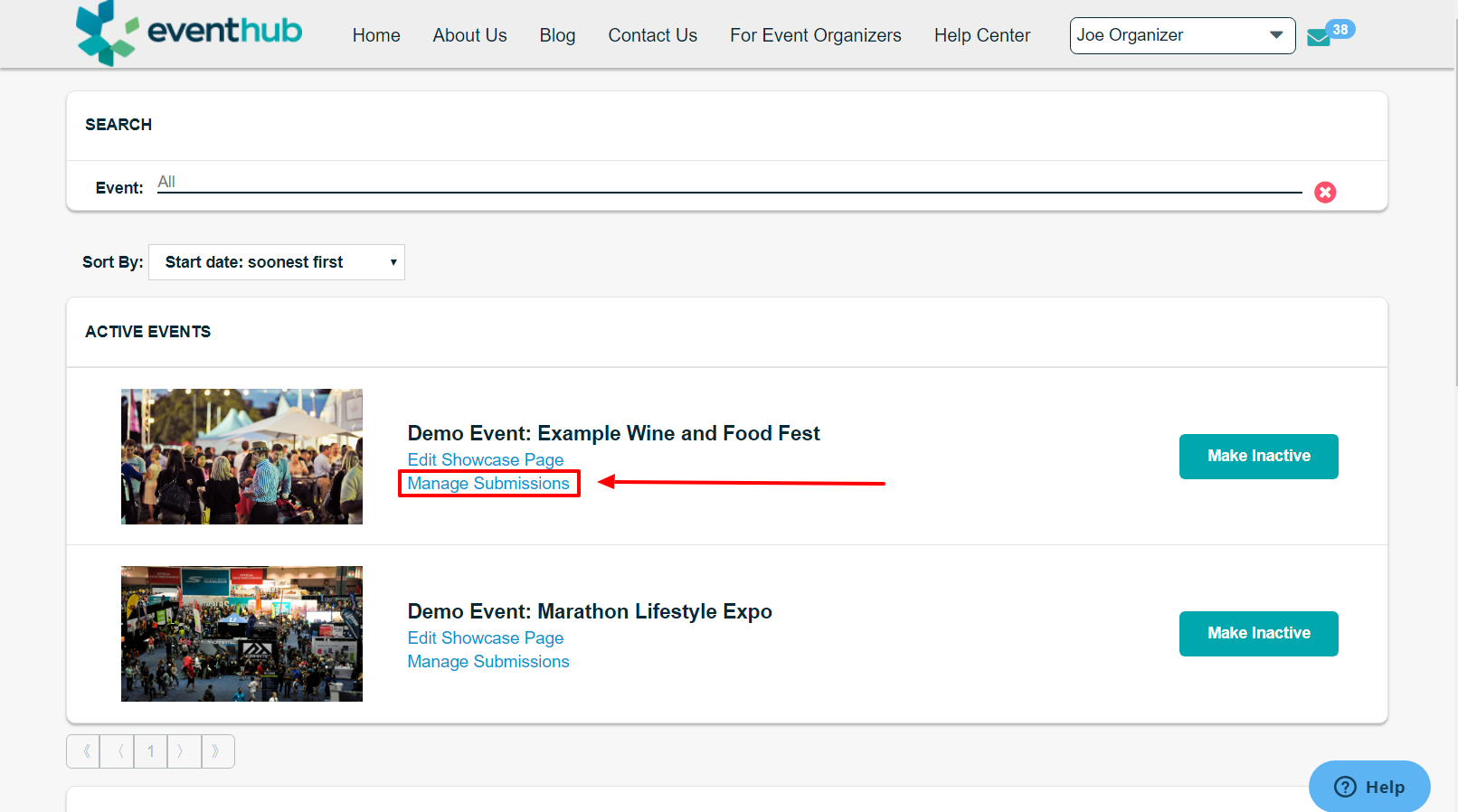 This is your event's Submissions Dashboard. Order summaries will be listed below this dashboard.
To Create an Event or Batch Edit existing events, you can now select these options from your main account dropdown on the top right of your screen.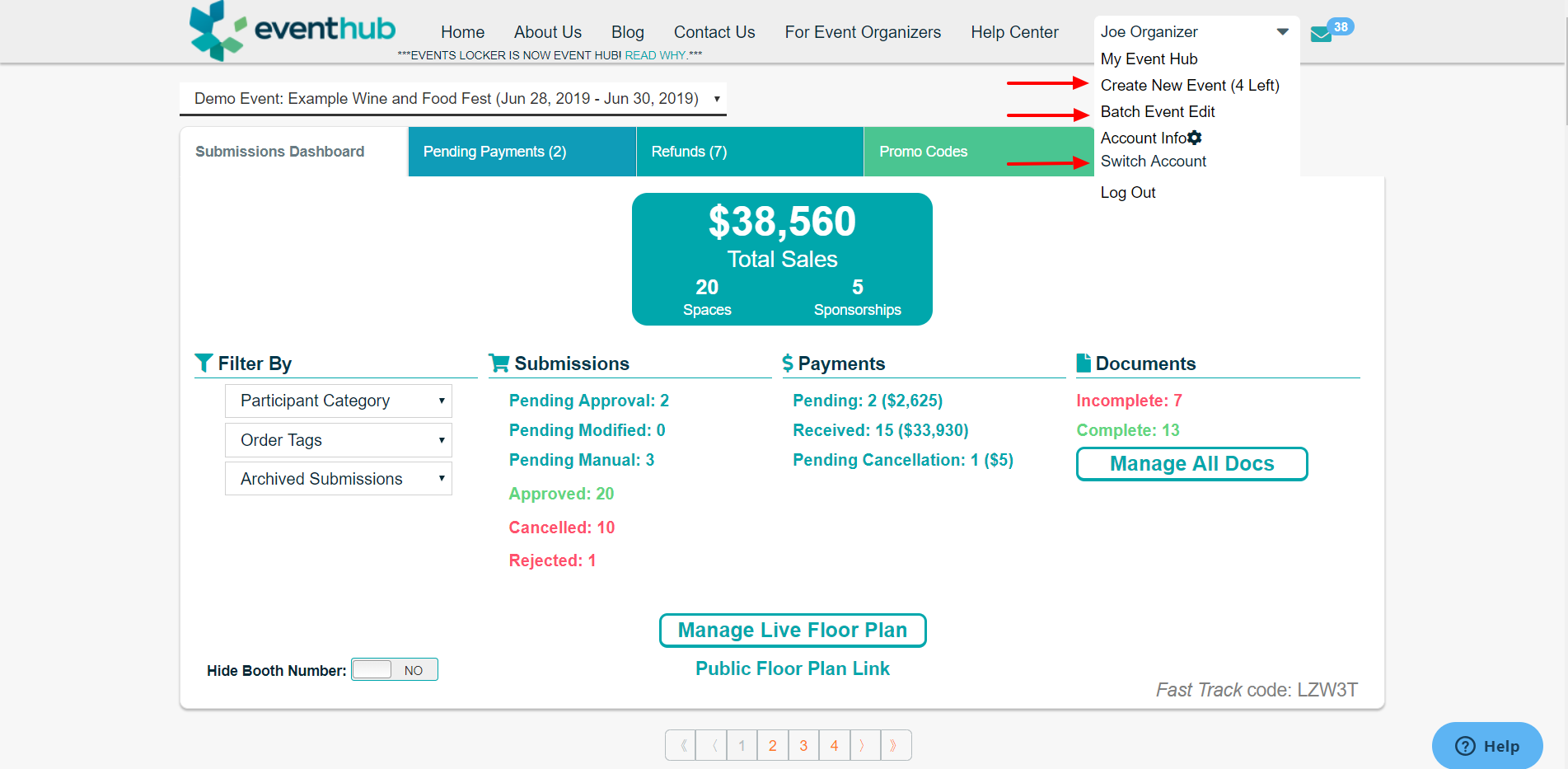 To access your My Messages messaging center, click on the envelope icon on the top right of your window.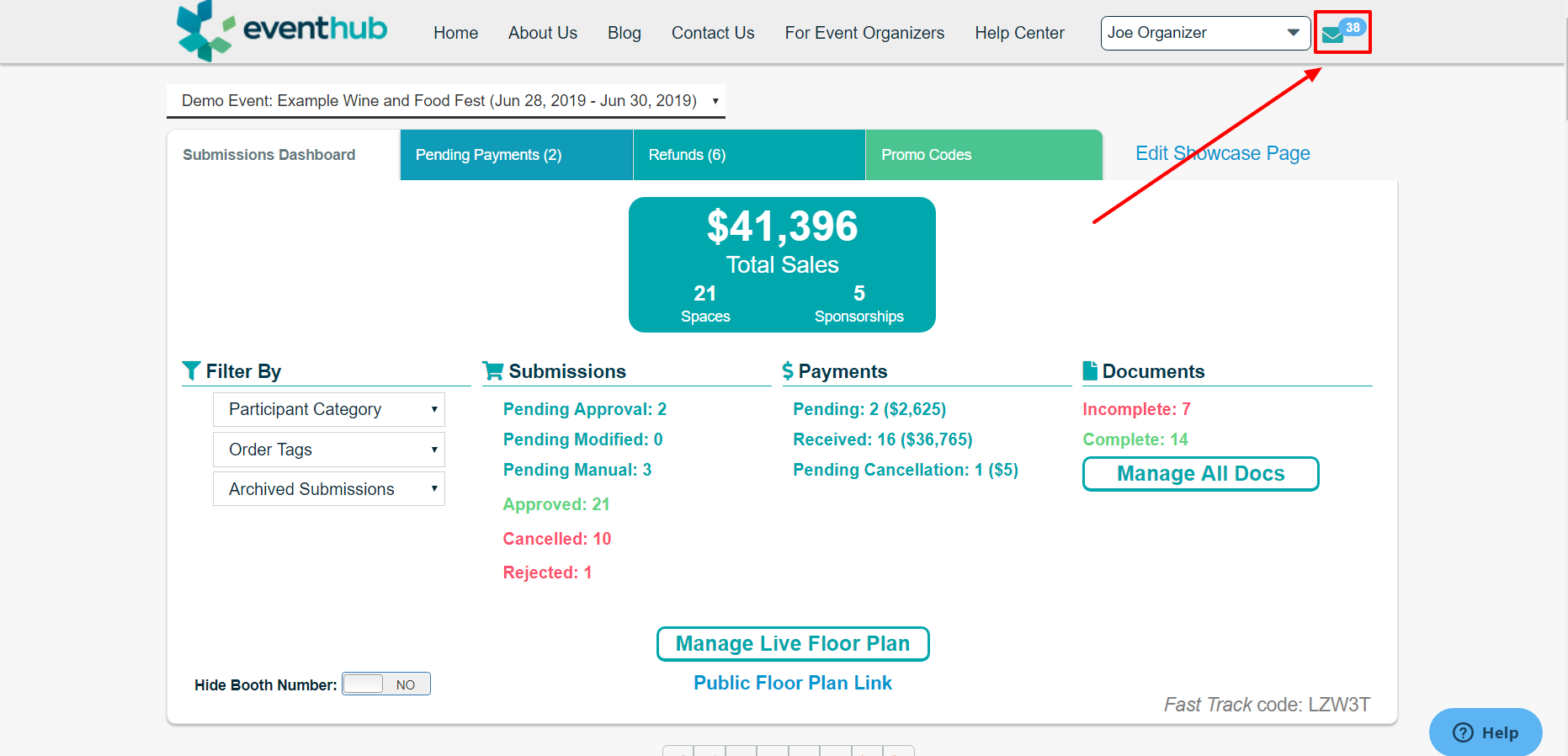 Use the dropdown on the top left of your dashboard to easily switch your view from one event to another, or you can choose to view all event submissions at once for convenient batch actions.
For example, you could view and approve payments pending for all events by clicking View All Events from the dropdown, then going to your Pending Payments tab and completing a batch action.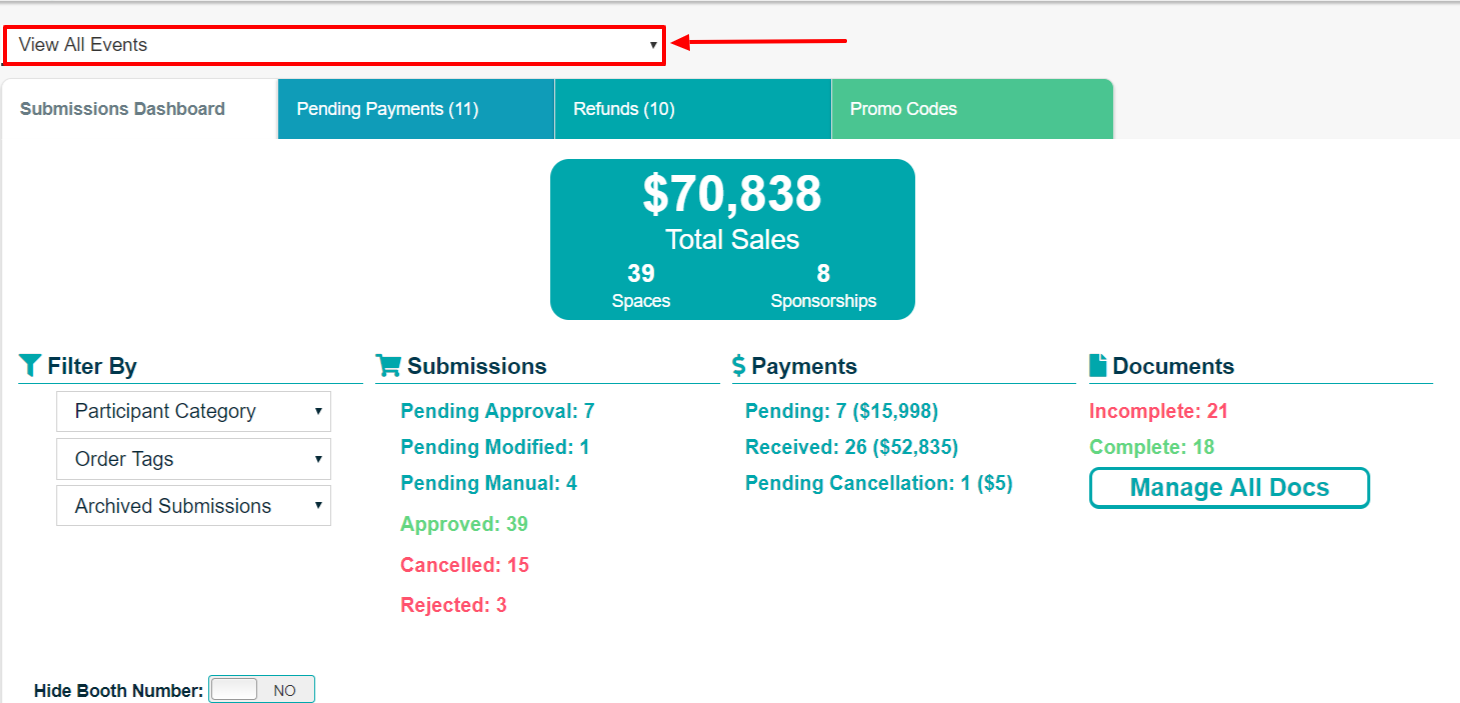 Use the tabs at the top to switch to Pending Payments, Refunds, and Promo Codes.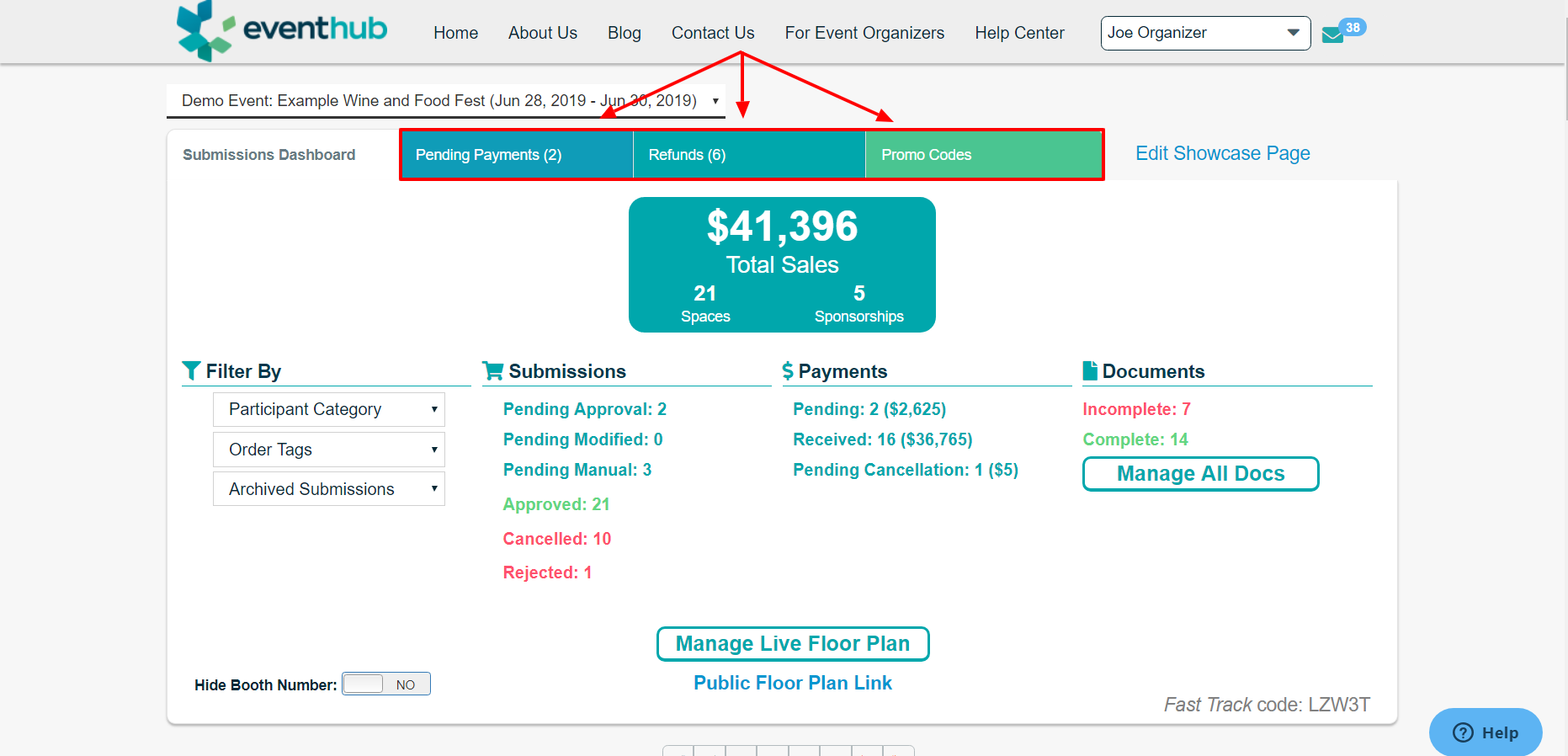 The Pending Payments tab allows you to view all payments pending for the event(s) chosen in the event dropdown on the left. You can also Filter your Pending Payments by utilizing the Order Search. Once you have located the appropriate payment, you can Accept Check or Alt. Payment by clicking the check icon, or Accept Card Payment by clicking on the green credit card icon.
For information on recording partial payments, see this article: Record a Partial Payment
Batch actions are available through the dropdown on the top right as well as the option to Send Payment Reminders. Simply check the boxes for the submissions you would like to action, or check Select All, then select the desired action from the dropdown.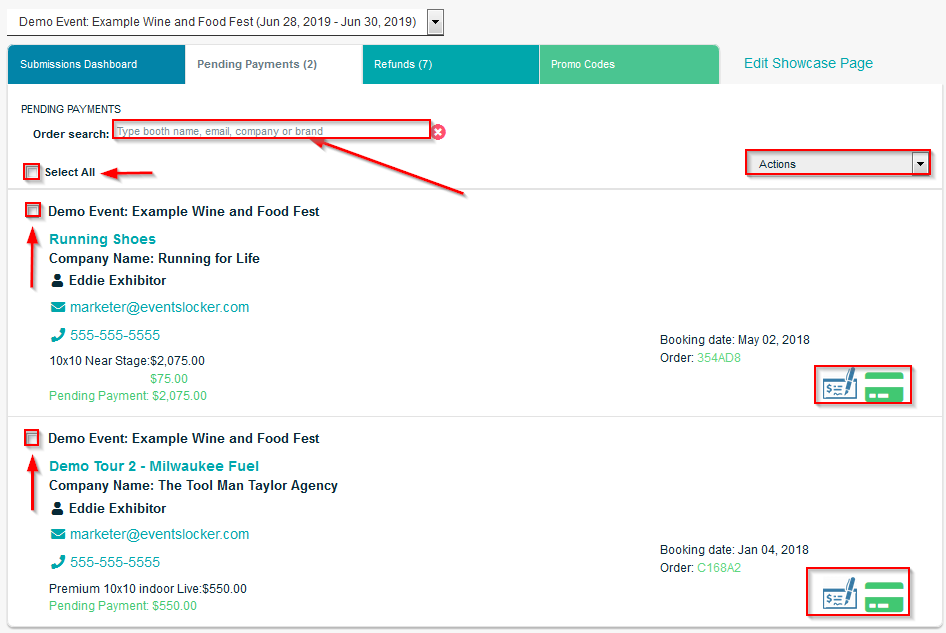 On the Refunds tab, you can view all refunds pending by selecting Pending Refunds from the dropdown on the right, or view refunds that have already been issued by selecting Refunded. Pending refunds can be refunded through check or alternative payment by selecting the check icon, or through credit card by selecting the green credit card icon. If per your terms, you do not issue refunds, you may select the No Refunds icon.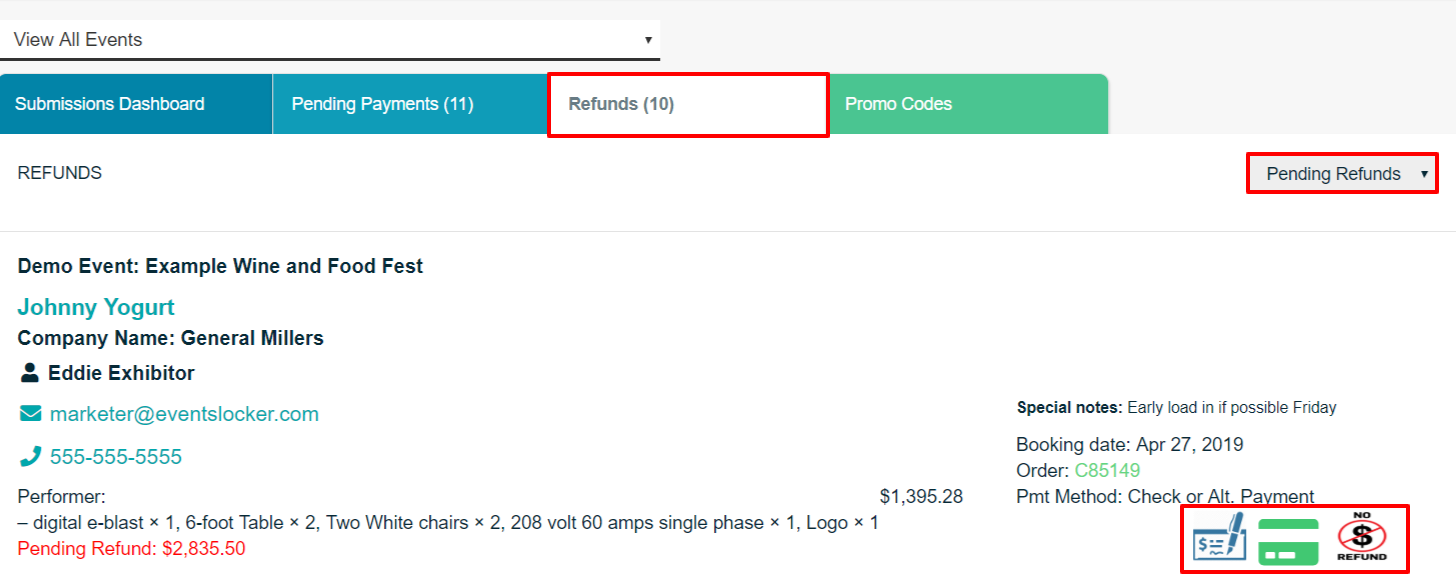 You can create promo codes on your Promo Codes tab by inputting the promo code name (any combination of letters and numbers), selecting the type of code (flat rate or percentage), and specifying the amount. You also have the option to make the code a once-per-user promo.

If you would like to edit your showcase page, use the link on the top right to bring you straight to the Edit Showcase Wizard.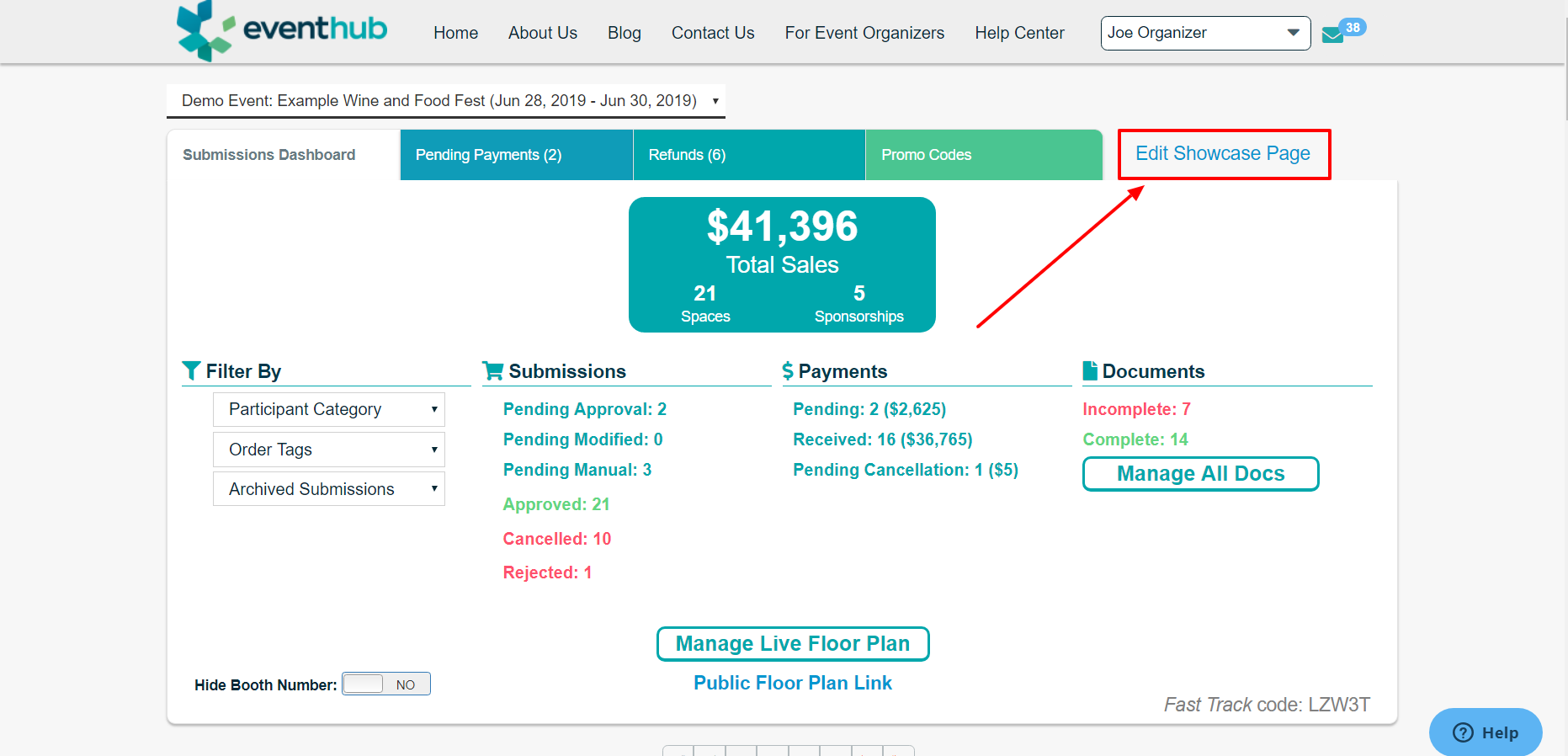 Center and prominent on your Submissions Dashboard is the green Total Sales box. This is a running total of your orders.
Below the Total Sales box are several options to filter the view of your submissions. There are several options in that will filter by submission, payment, and document status as well as dropdown selections on the left to filter by participant category and tags you have added to the orders. Use the Archived Submissions dropdown to view old and archived orders.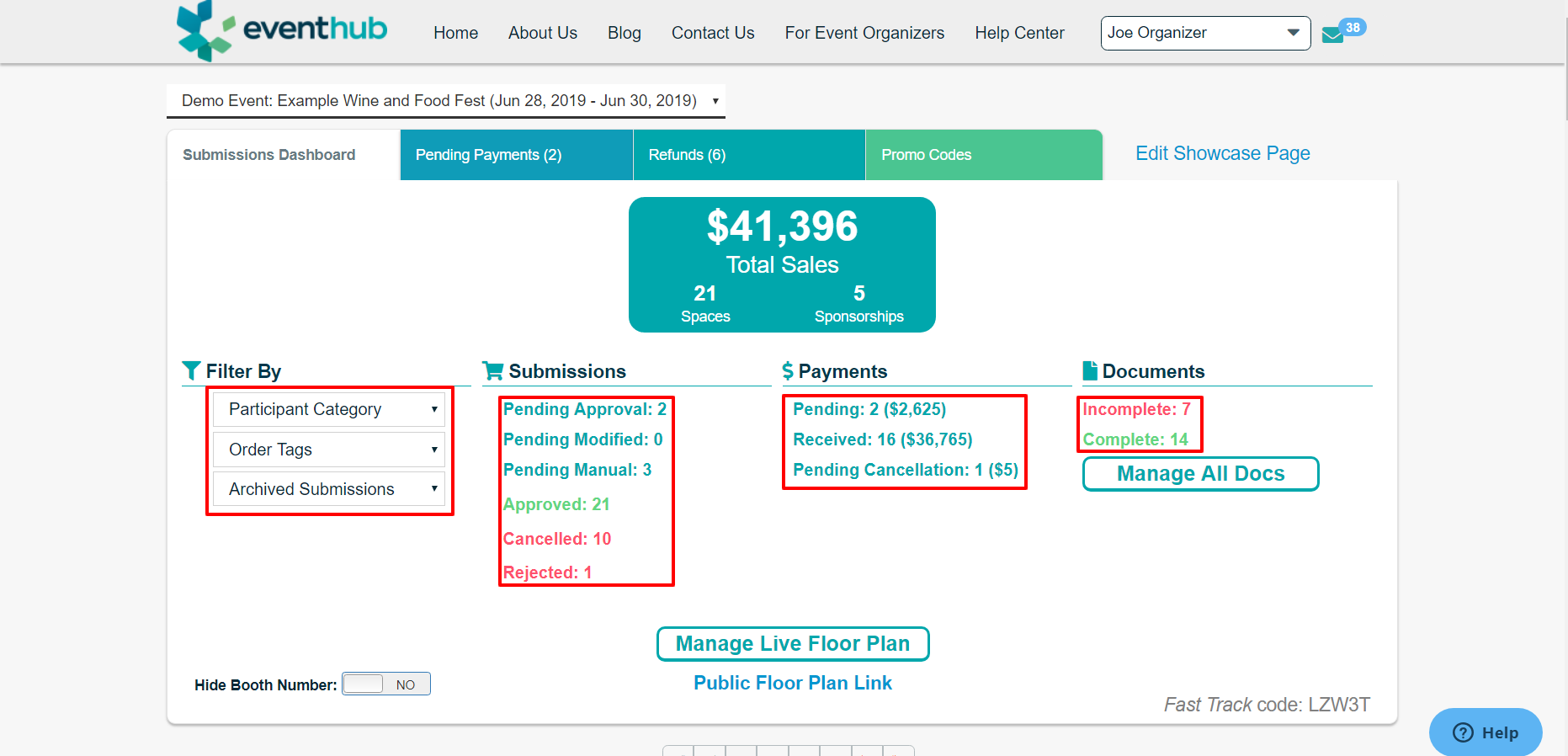 Manage All Docs will now open your global Document Manager, allowing you to manage documents for all of your event submissions simultaneously.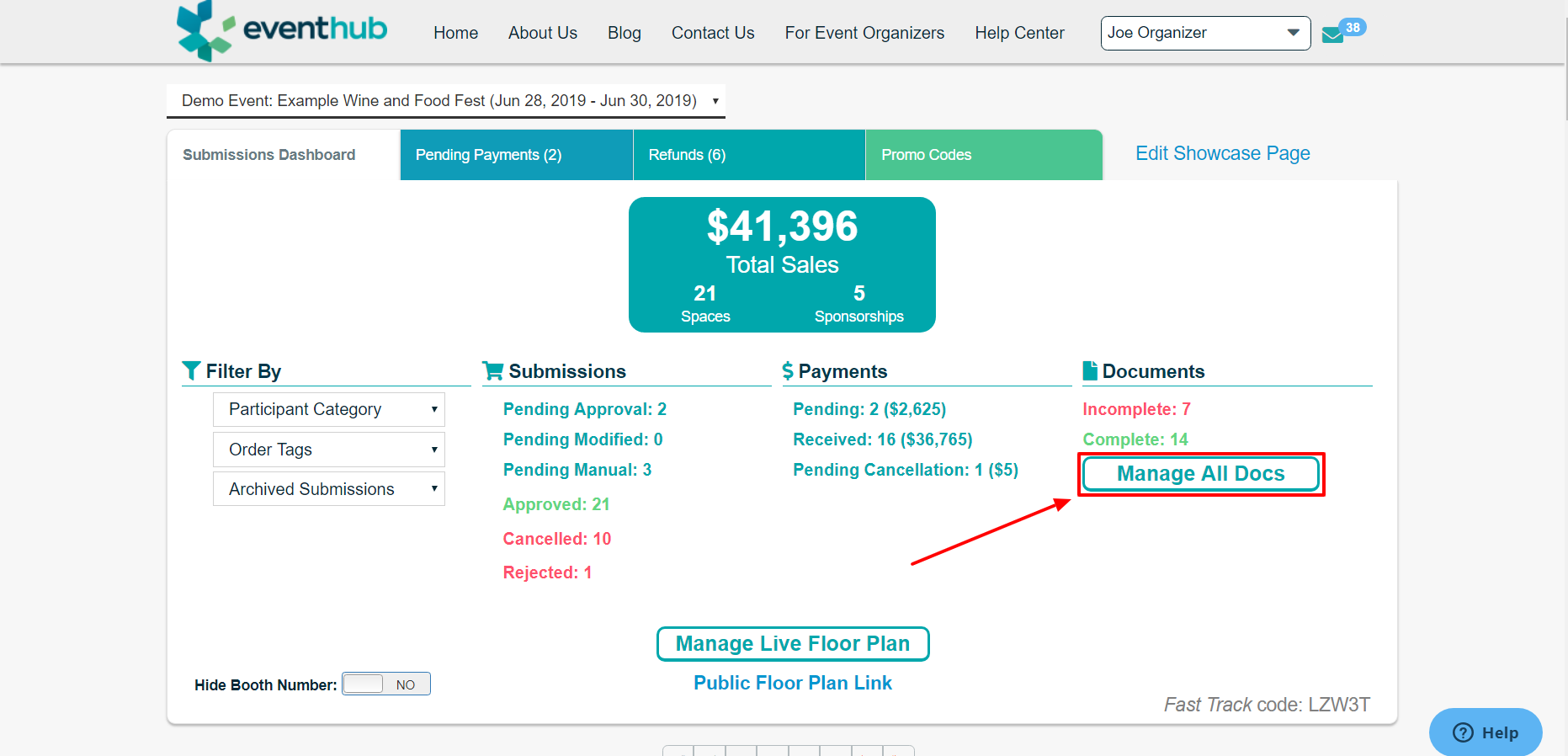 Manage Live Floor Plan opens your live map feature for editing and quick and easy changes. To see the public view of your floor plan, use the Public Floor Plan Link below.
*Note - these links will not appear unless you have chosen to upgrade to the Live Floor Plan. Contact jamien@eventhub.net for information on upgrading to a Live Floor Plan!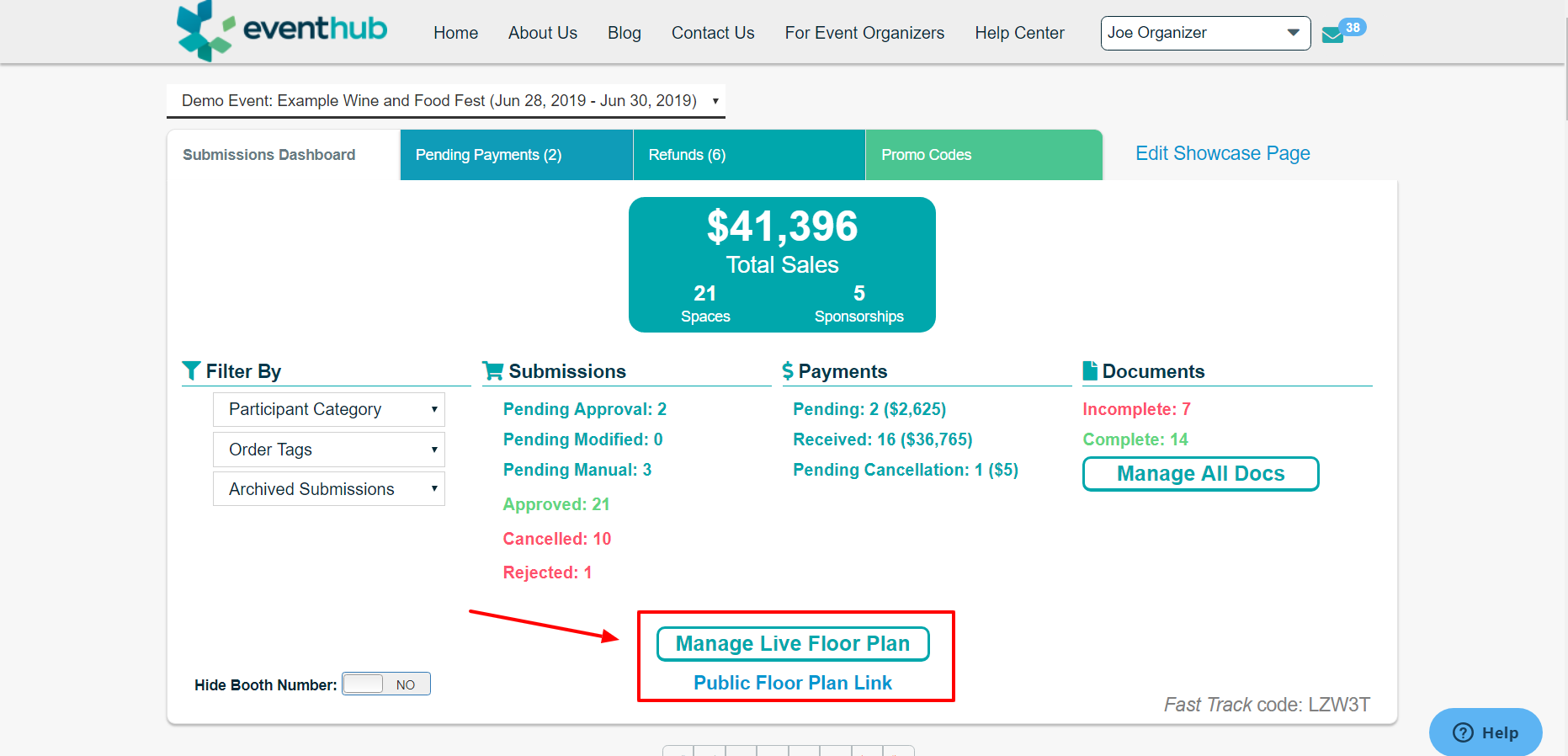 Use this Hide Booth Number toggle to hide/reveal assigned booth numbers from/to exhibitors.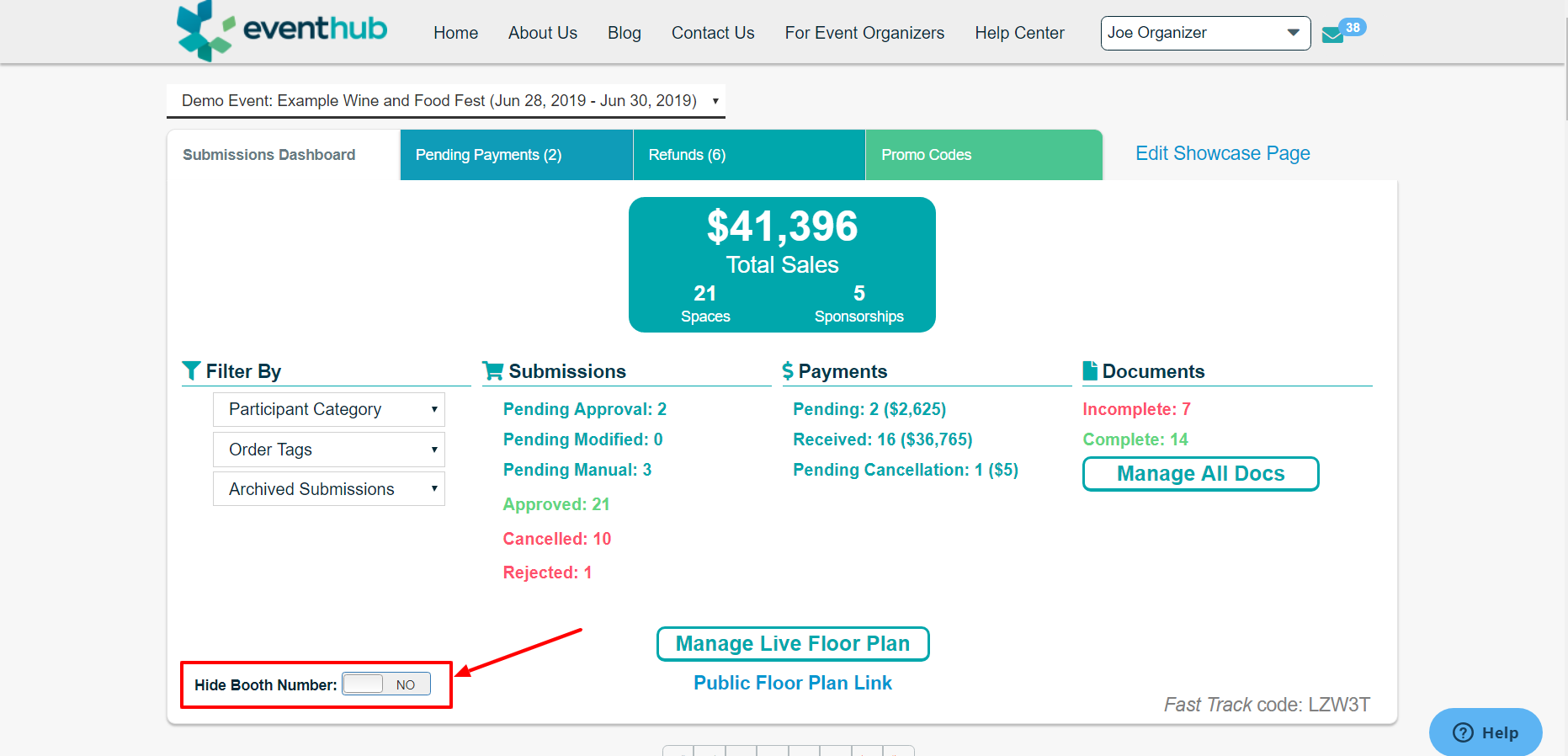 *If you have more questions about managing your event submissions, be sure to check out the links throughout the article!