In this article we're going to focus on embedding content within a Session, for more information on how to create Sessions on your Event Schedule, please refer to this help article.
If you want to have a pre-recorded video play during your session time, you just need to plug a link to that video into Session Programming.
We support embedding videos from YouTube, Twitch, Vimeo, and Wistia.
Adding Programming to a Session
Once you have a session created, you add Programming slots by going into the Program tab of the Editing sidebar.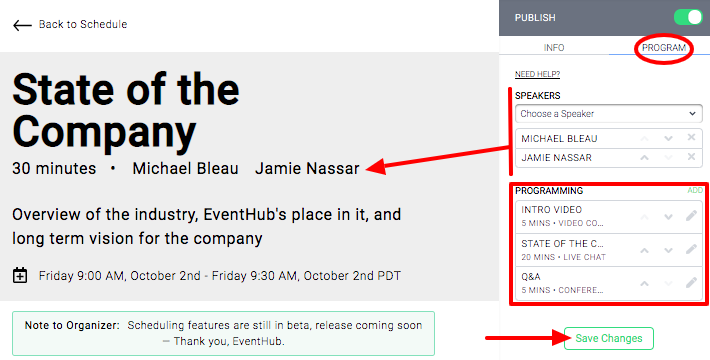 Let's take a closer look at the Programming section.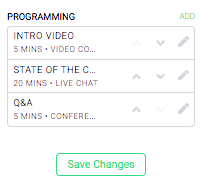 One of the Types of Programming you can add is Video Content.
To do this, click the ADD button to bring up the editing pop up for Session content.
From the Type dropdown list, choose "Video Content."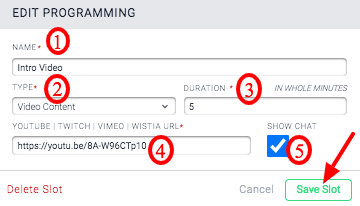 Then fill in the following fields:
Name
Type: Here we want "Video Content." This cannot be changed once you click Save.
Duration: This is the time that the video will be available to watch at the top of your Session page. It's ok if this is longer than the video length, whenever someone comes to your page during this 5 minutes, they'll start watching the video (and they might be late! Good to add some cushion.)
Streaming URL: Enter the YouTube, Twitch, Vimeo, or Wistia URL.
Show Chat: To allow users to chat with you in realtime, check this box. When your livestream is live, the side chat bar will be available for viewers to interact with you. If you do not want users to be able to chat you or your livestream is prerecorded, uncheck this box.
Click Save to save this Programming and close the editing box. You can always edit features of your Video Content after you Save it, but you cannot change the Programming Type after you create it. That means that you can't switch Video Content to a Zoom Embed after you create it, so you need to know your Programming Type when you start filling the details in.