Before you start designing your virtual booth set goals and identify your target. Are you looking to make an impression on current customers or attract new ones? Are you launching a new product? What kind of content will you need? The good part is, this can be identified without changing out of your pajamas. Need help? Let us show you how to sell and win!
Topics Covered:
How to access your virtual booth?
Open up your web browser and type in eventhub.net into the address bar. (Please use Google Chrome or Safari for the best quality experience). Once you are on the website, click Log In in the upper right corner to get to the login page. Forgot your password? View this tutorial
If after logging in you see the marketplace instead of your order page, hover your mouse over the top right of the page (as shown below), and click on My Event Hub.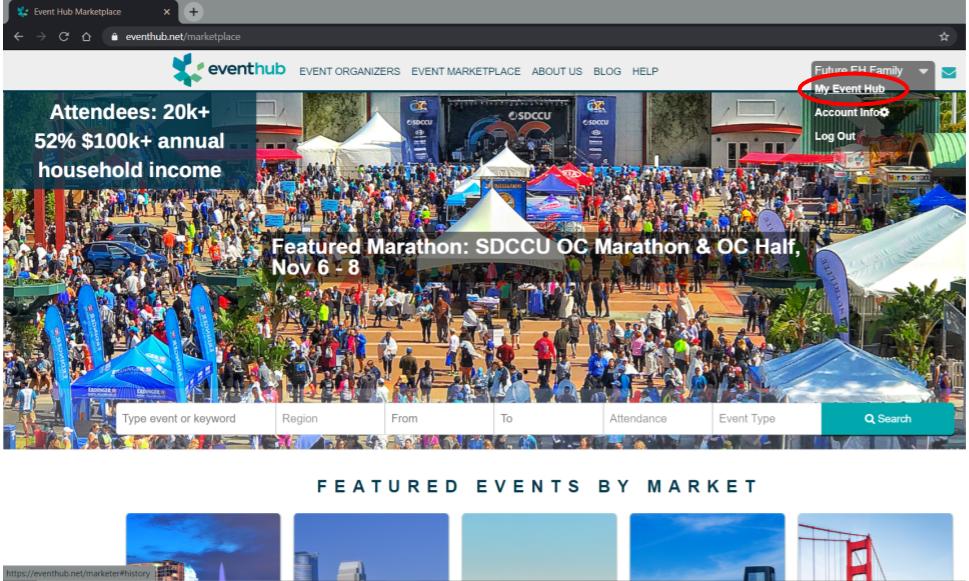 After arriving on your Order Dashboard, navigate to the event you are looking for and click on the Virtual Village: Public Profile. This will lead to your virtual booth page, where you can start designing your booth!
NOTE: You cannot access your virtual booth public profile page until your submission has been approved by the event organizer!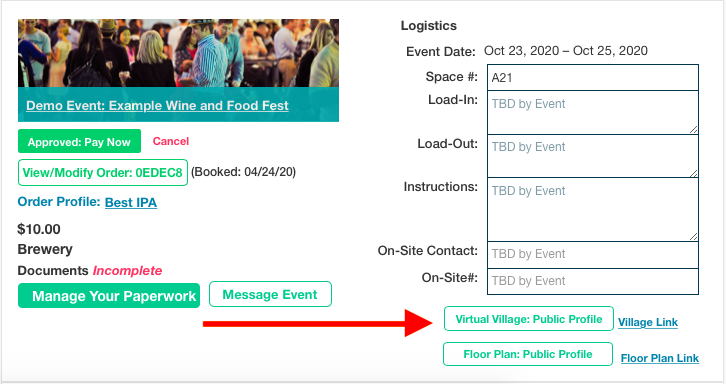 Designing your virtual booth
This is the template to creating your virtual booth. Can't wait for you to see it jazzed up!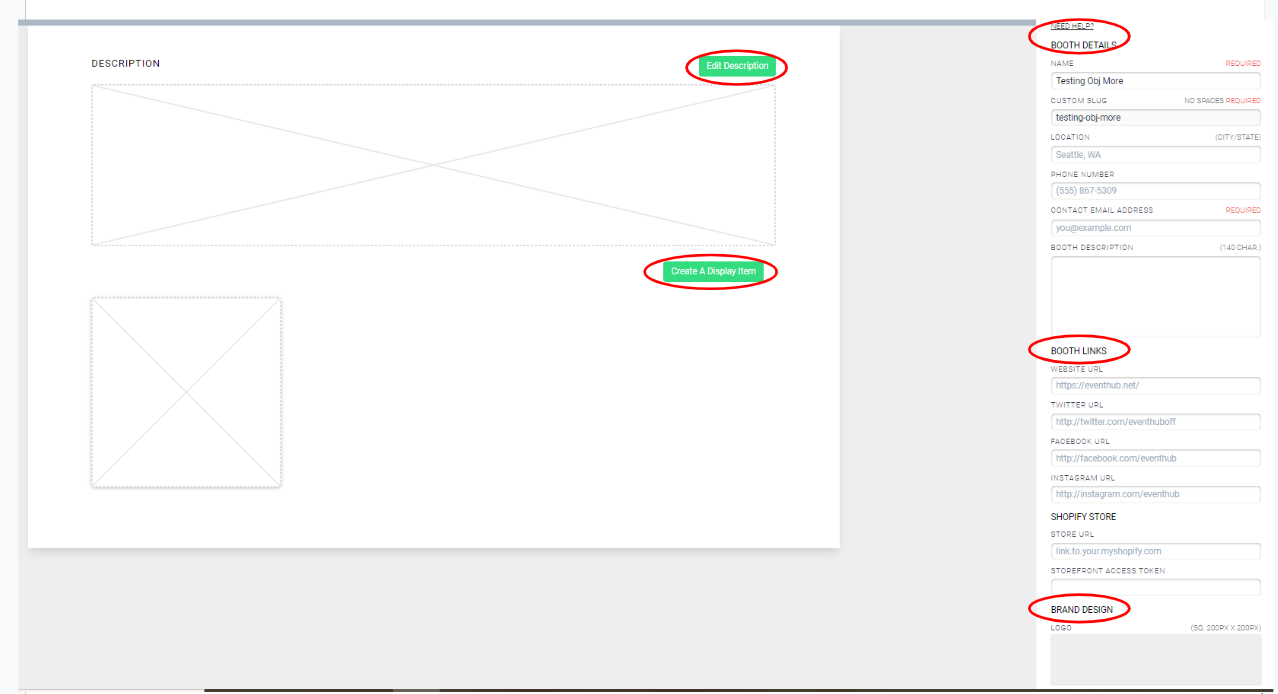 Now, think colorful, high contrast, and high impact. Your messaging and designs should be sized to fit the display areas. This ranges from your cover image, logo, product images to the image of the representative manning the virtual booth. You can leverage these to make the attendees visiting your booth have a memorable experience. Below are steps on how to add details and required URL formatting.
Description
Enter a description for your booth. The more exciting and descriptive you are, the more likely viewers will want to learn more!
Linking a video in the cover area or description section
- Embed a video to play where your cover image is located and/or in your description section . Go ahead and try it and see how it looks.
Example of embedding a video to display on your cover image section
Example of embedding a video in your description section
Name and Contact Information
The first part of your booth is the name and contact information.
Name of your booth (brand or company name) (required)
Custom slug - You can change your custom slug by first having your booth unpublished and then changing the slug. You cannot change the slug while your booth is published
Business location (optional)
Contactable phone number (optional)
Contactable email address - This email will be used for receiving messages from attendees. (required)
Shortly summarize your description of your booth (optional but highly suggested to attract attendees)
Website, Social Media, and Shopify Links
It is likely that you have a website or social media links that you would like to provide for your viewers. This is where they can see these links!
Website URL
Social media links (Twitter, Facebook, or Instagram)
Shopify - if you plan on integrating Shopify into your booth, you can input the URL and Storefront API Key
Graphics for Brand Design
Upload a logo graphic - Images only (file types: jpeg, jpg and png). Preferred measurements: 200px x 200px
Upload a hero cover graphic - Images only (file types: jpeg, jpg and png). Preferred measurements: 1600px x 500px
Video Conferencing
If utilizing video conferencing, insert a link to the call (more information about video conferencing below). You may also opt to use our built-in video conferencing service at no cost.
Also provide the name and company position of the person who will be representing the booth
Insert a headshot of the person who will be in the virtual booth - Images only (file types: jpeg, jpg and png). Preferred measurements: 200px x 200px
Cover Video URL - you can insert a link to a video from Youtube, Twitch, Vimeo, or Wistia to play on the top cover of your booth while a participant enters your booth
Virtual Booth Session Details
Age Verification - If you would like to restrict the age group for your participants entering the booths, check the box and choose the age minimum to be either 8, 13, 18, or 21
Room Settings - You can check any boxes to apply the chosen settings. You can also enter a participant limit to your virtual booth call
Participant Settings - You can check any boxes to apply settings to the participants entering your virtual booth
Make sure to frequently click Save Details at the bottom of the page to save the information that you have input!
Check out a completed virtual booth: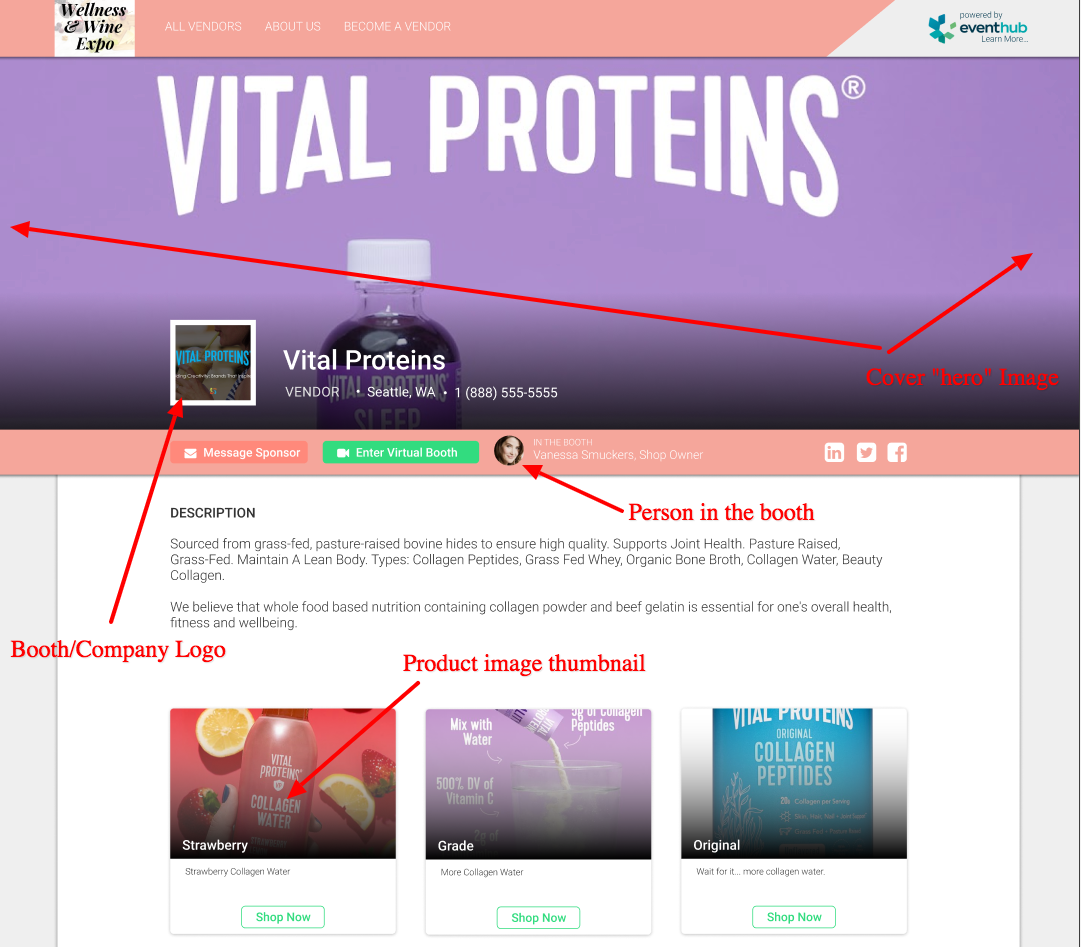 Exhibitor Booth Sessions: These sessions are set by the event organizer. During the booth session hours, the exhibitor info booth and your conferencing link will be activated. Outside of the booth session hours, the links are disabled. We don't want you manning your virtual booth around the clock!
Exhibitor Info/Help Booth: you can access the help booth during session hours to connect with the event assistant
Enter Virtual Booth (see image above): This is enabled if you add a conference link and during the booth sessions.
Programming and Interacting with Attendees in Real-time
Use video conferencing to enhance your visitors experience and interact directly with them in real-time.
Using a third-party conferencing service
By using Zoom, Google Meet, Google Hangouts or Youtube Live conferencing tools, attendees can engage with you in real-time, asking questions in a chat box, responding to polls, or even asking questions via video. It is important you test the conferencing link is working by changing your view from edit to preview mode.
Zoom has become the standard virtual event tool for any video conferencing. Zoom also has a webinar service as a part of their premium platform. Their webinar service is suitable for large presentations with attendee interaction control.
Note: if you are not the admin of the conferencing account, be sure the admin adds you as a host or enables users to access the meeting without the host.
Using Event Hub's built-in conferencing service
If your event organizer enabled this feature, you will be able to hold meetings, interact with attendees unscheduled and schedule programming with our built-in conference app.
To enable this feature click on the "Use Event Hub Virtual Booth".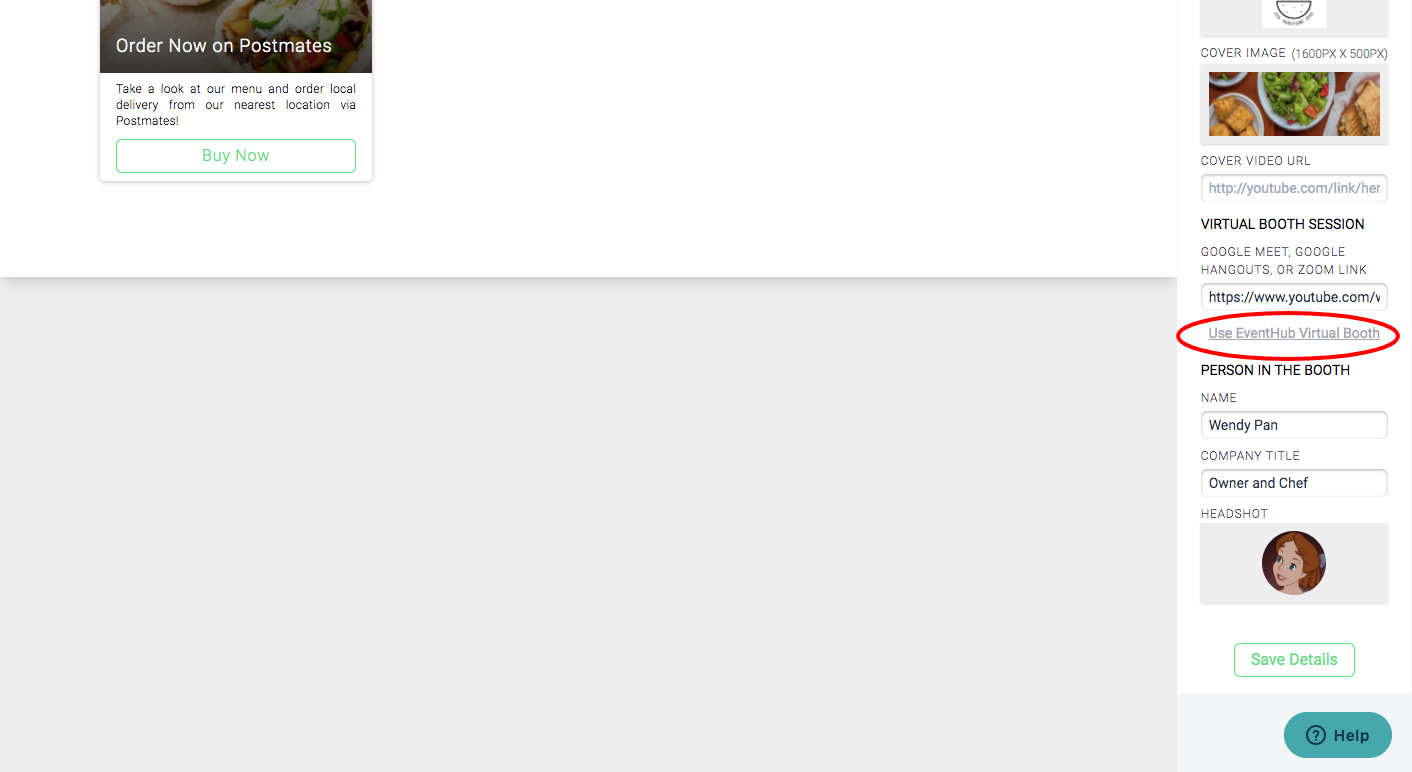 Adjust the Room Settings accordingly. Options range from Age Verification, Enable Chat, Enable Recording, Video Camera and Sound on/off upon entrance. You can even set a capacity if you are having 1:1 engagements or want to limit 10 attendees at a time. Otherwise the maximum of attendees is 250. Lastly you'll want to adjust the Participant Settings.

During booth sessions attendees can access the virtual video chat which will be displayed via your cover image. They can interact and at the same time scroll through your products and services while the video camera floats with them at the bottom right of their screen.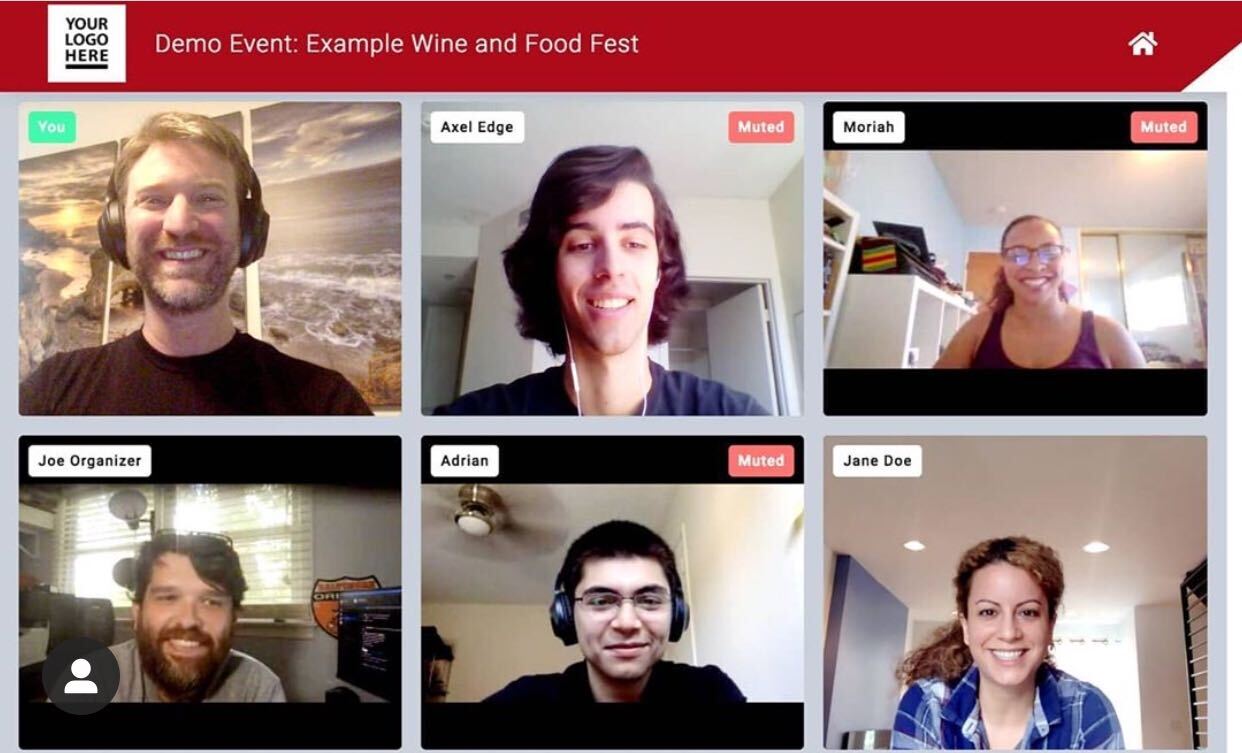 Go ahead, and try it out yourself! Click on "Enter Virtual Booth" to 'rehearse'!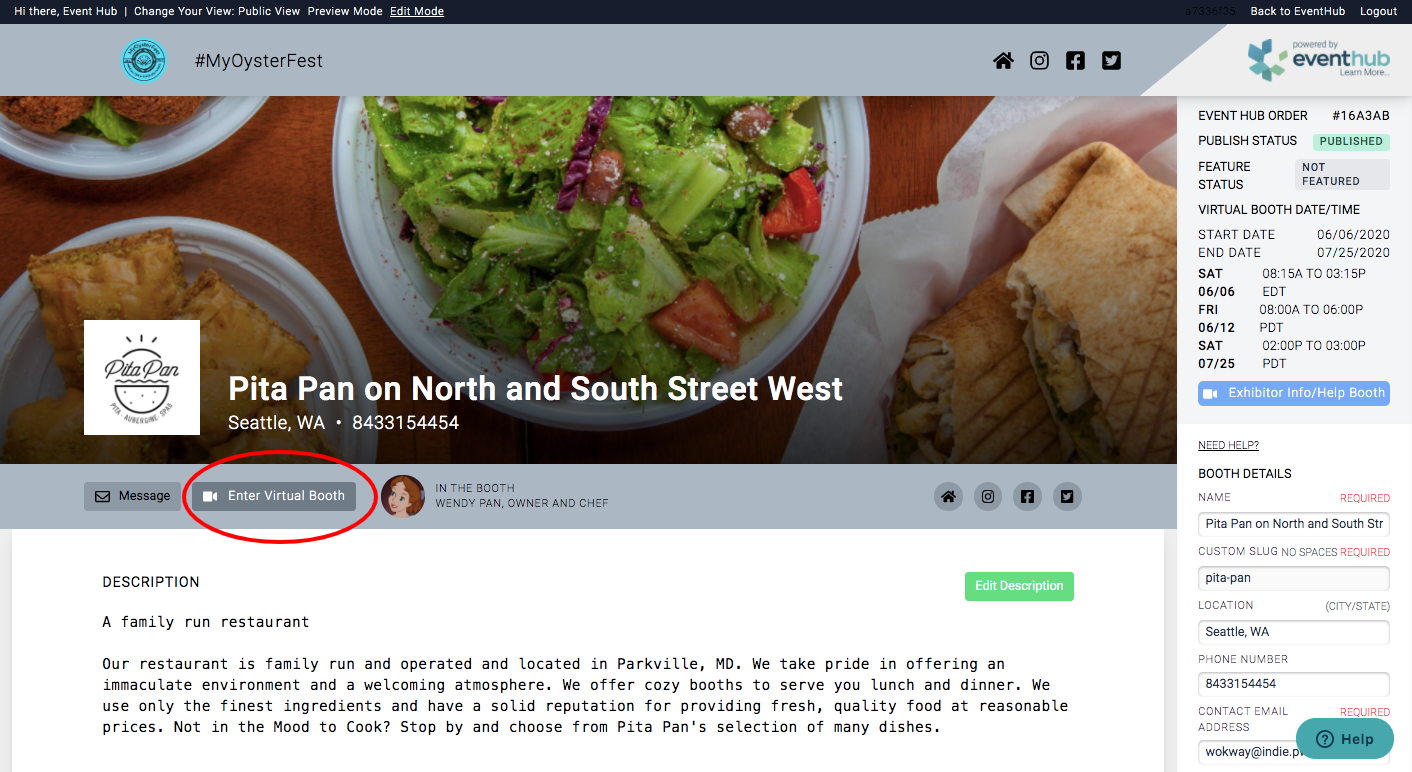 Note: If this feature was not enabled by the event organizer, you will need to message them to learn more on having this feature turned on. Click here to learn how to message the event organizer
Creating display items and uploading display cover image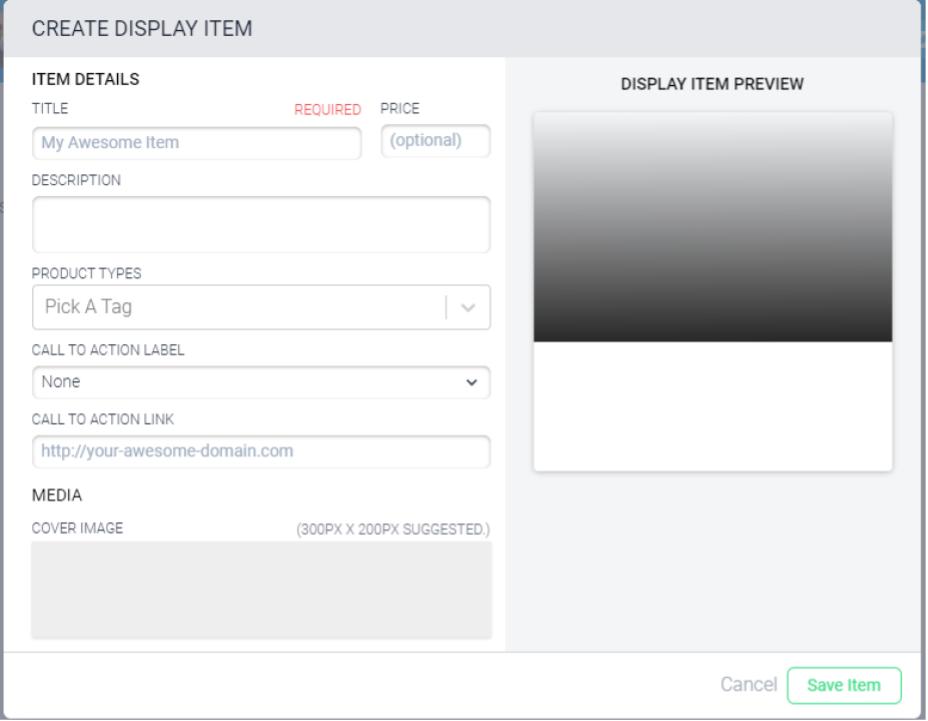 1. To create a product/display item, click Create a Display Item. Then, you will be able to fill out information about your product.
2. Choose a title for your item, and you can also input a price to be shown with the display item.
3. Enter a description for your item. Product description explains what the product is and why it's worth purchasing. The purpose of a product description is to supply customers with important information about the features and benefits of the product so they're compelled to buy.
4. Pick tags that apply to your product. These tags act as categories and will affect how they are filtered and how attendees can find your virtual booth
5. The Call to Action Label is what you want viewers of your booth to click on when they see your item. You can choose from a few options: "Buy Now", "Shop Now", "Order Now", "Learn More", "Read More", "Donate", "Enter Giveaway", "Download" or "Play". Choose whichever one you prefer or the one that will fit your display item the most!
6. Insert your link to your product in the Call to Action Link. This link is the location where viewers will be redirected to when they click on the label. Make sure to click the preview mode and validate the links are working and permission to view is granted to guest (i.e. google drive)
7. Lastly, add a cover image of your item to draw in the attention of your customers!
Need help uploading and cropping the display item image? Video to check it out in action:
Once finished, attendees visiting your booth will be able to view your products/services and filter based on their interest

Plus, on the event's main page, the attendees can search for your booth based on brand name, keyword search from your description and product/service tags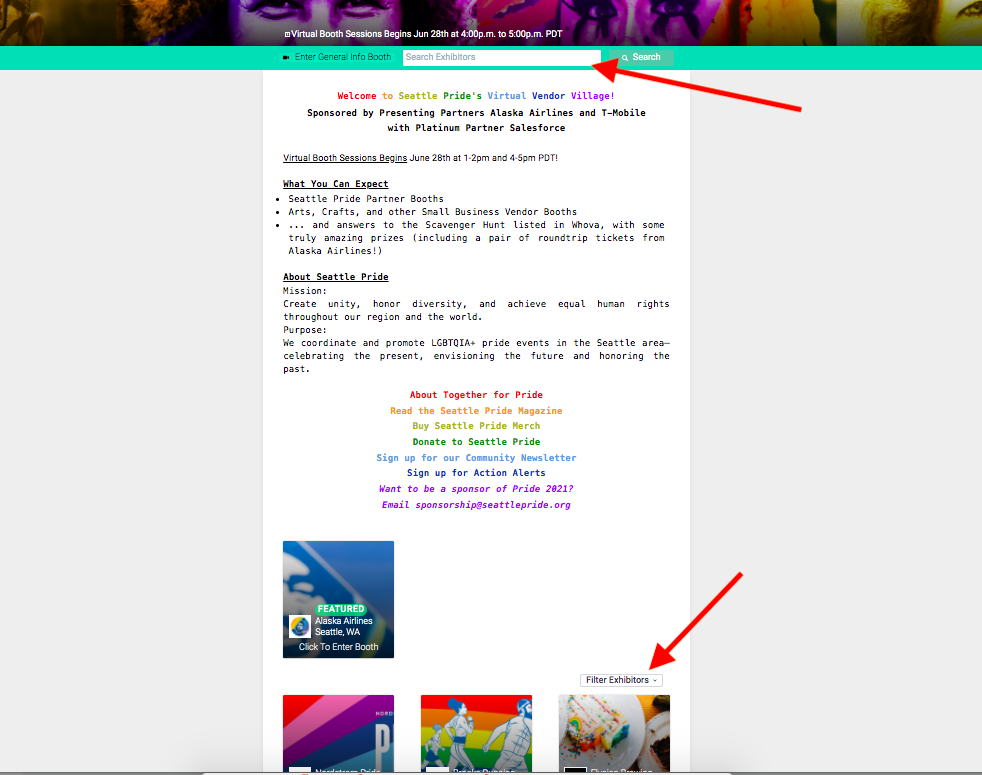 Linking to an online store or embed via Shopify
Shopify is the easiest and most common website builder for e-commerce. Their wizard helps you set-up your website to optimize for conversions (sign-ups, purchases, etc.). They charge a monthly fee based on membership level starting at $29 a month and a payment processing fee. Shopify is the best option if you are looking to increase your sales online.
Items you'll need to embed your Shopify account:
• Shop owner needs to create a Private App -> https://help.shopify.com/en/manual/apps/private-apps
• Create a Shopify url address. Don't include http in the url. i.e. of the URL format is "pizza.myshopify.com"
• The Storefront access token (this gets generated by making the Private App they just have to copy and paste into our form.)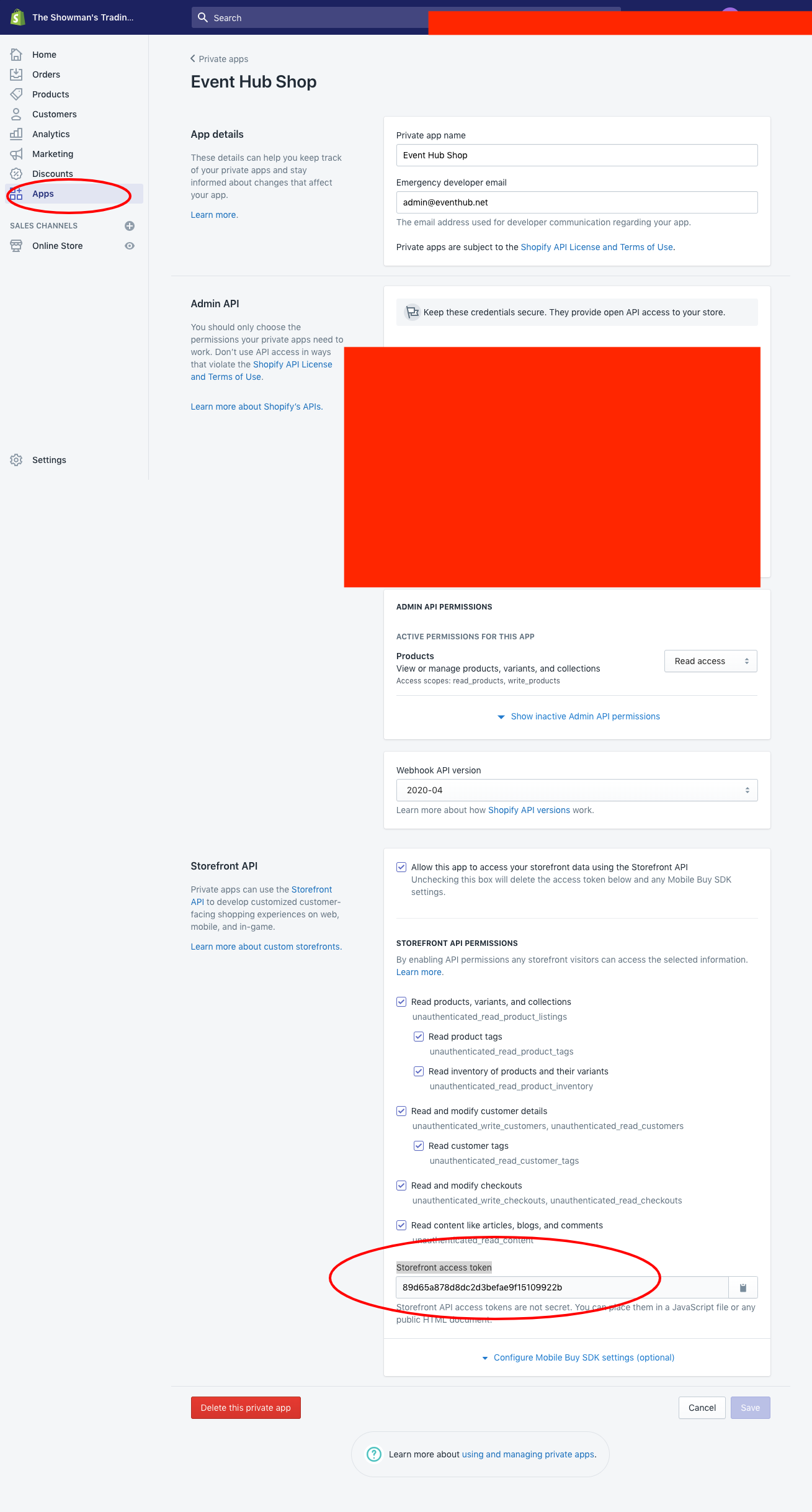 Next you will want to add the Store URL and Access Token to your virtual booth settings. Don't forget to click "save details" and then refresh your screen to see all of your products display. If you need to remove products from displaying, you will need to make them unavailable via your Shopify account. You may reach out to their support team for further assistance with your Shopify account.
This is an example of how the Shopify products look once pulled through to your Event Hub Virtual Booth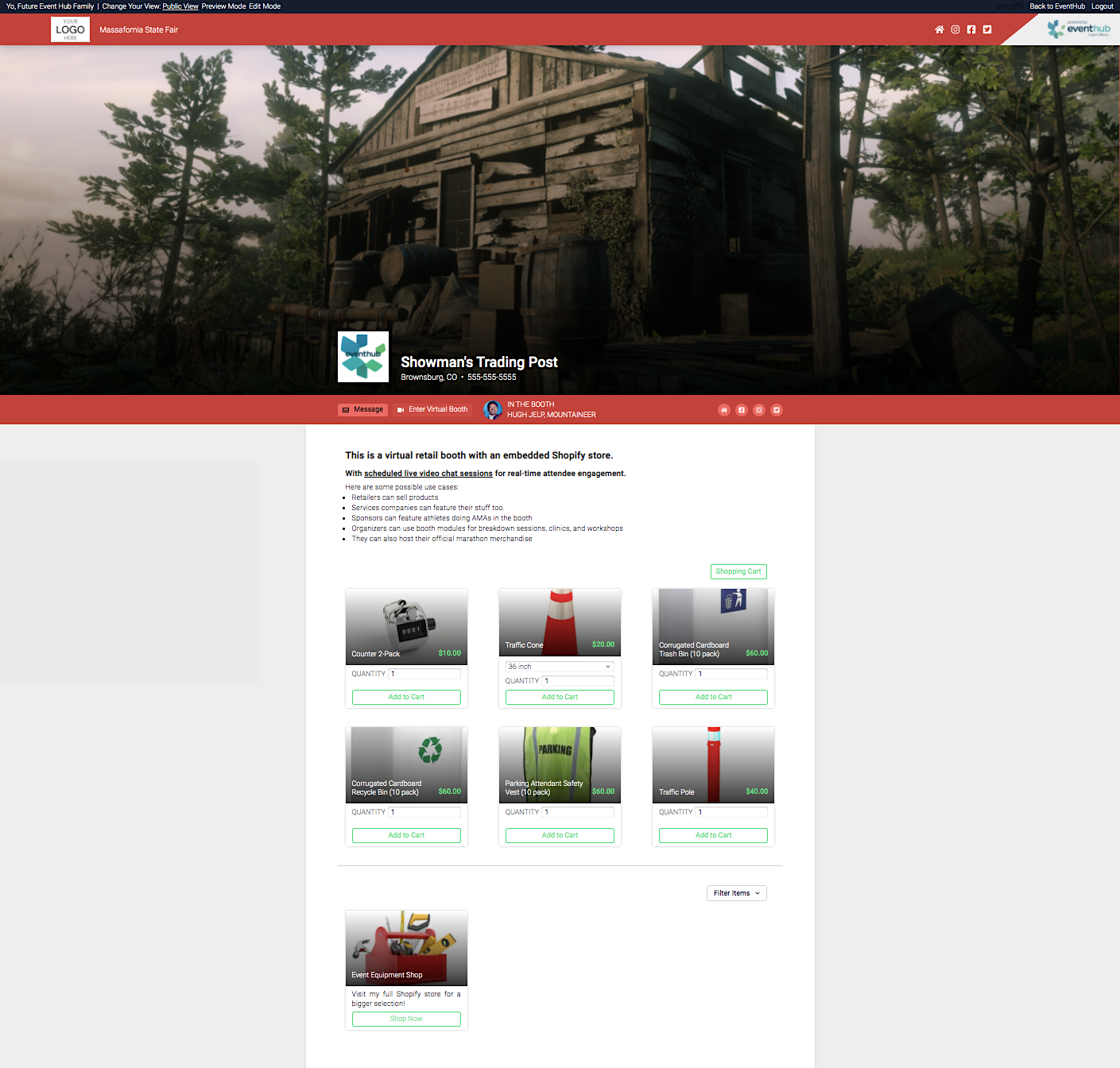 Don't forget to "preview" your page and click ALL of the links to ensure they are working and GUEST can access them (i.e. conference link, google doc, YouTube video not set to private, etc). Go back to "edit" mode to tweak as needed. The "public" view link is for you to share with your friends, family and customers to visit your booth directly!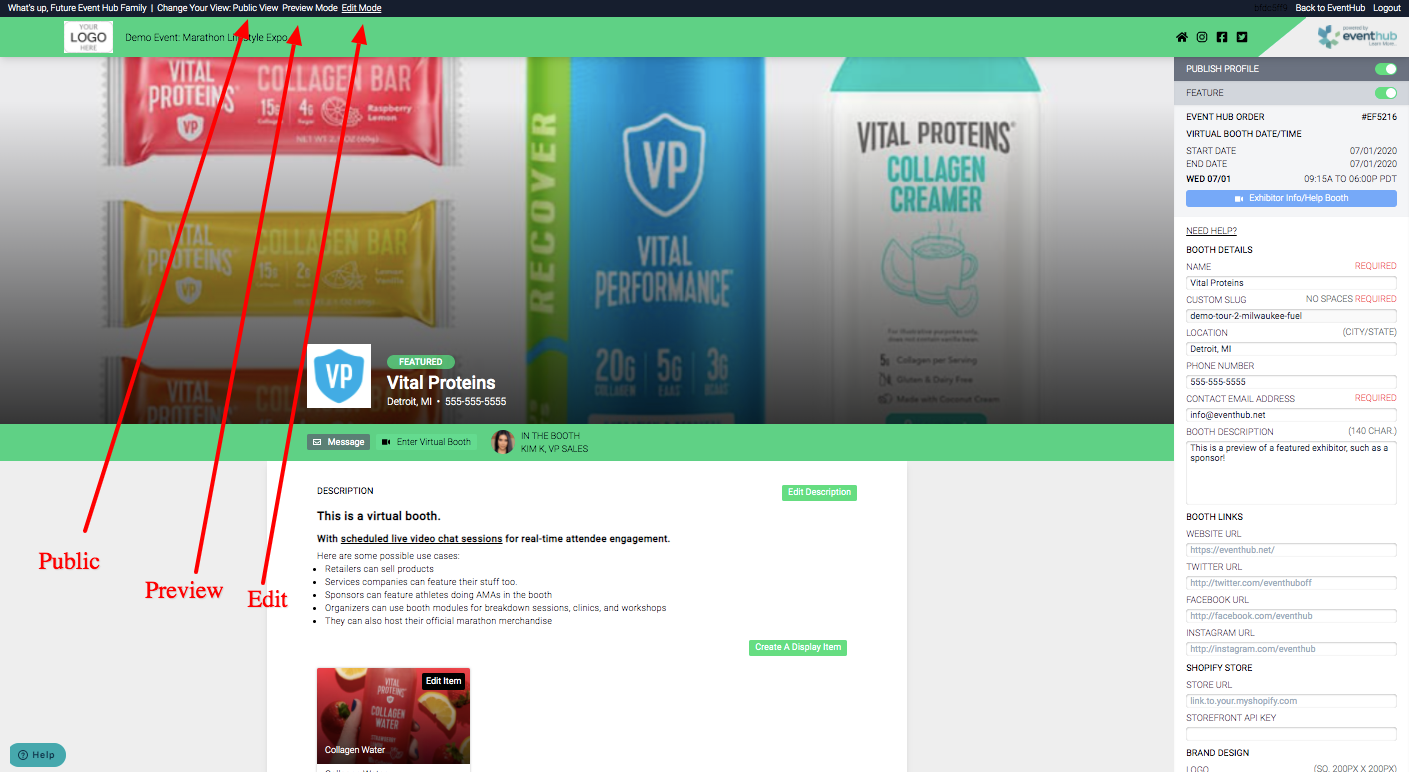 Depending on the event, your virtual booth may remain up for as many as 30 days after the official programming ends, so make it count!