What are Social Widgets ?
Social Widgets are simple widgets in the middle of the page that allows users to input their social media website profile URLs and display their feed embedded right in their booth page. Attendees can click the widgets to be taken to that site, where they can like, follow, and subscribe.
Targeting Your Audience
Before you think about the logistics of integrating social channels, start with your target audience. Ask yourself which social networks your audience is active in.
Supported Social Media Platforms
EventHub supports the following social media platforms: Facebook, Twitter, Pinterest, YouTube, Vimeo, and Twitch.
NOTE: For Pinterest, we only support links to boards, not profiles or individual posts.

NOTE:

For Facebook, we only support links to Pages, not Events, Profiles, or Posts. Additionally, we can only display Pages that are visible to people when they are not logged in to Facebook.

More on this below

.
NOTE: For YouTube, you need to copy the URL from the browser bar, not the Share button below the video. A link with the "youtu.be" format will not work.

Click on the green "Manage Widgets" button. Click the green "Add Widget" button. Enter the URL (use the example formatting entered in the URL field that starts with https://). Then click the "Add" button. After you add the social widget, you will be able to resize the box, reorder the widgets, and remove the widget. Then click "Save Widget Changes". Don't forget to preview your work to ensure you entered the correct url for your organization.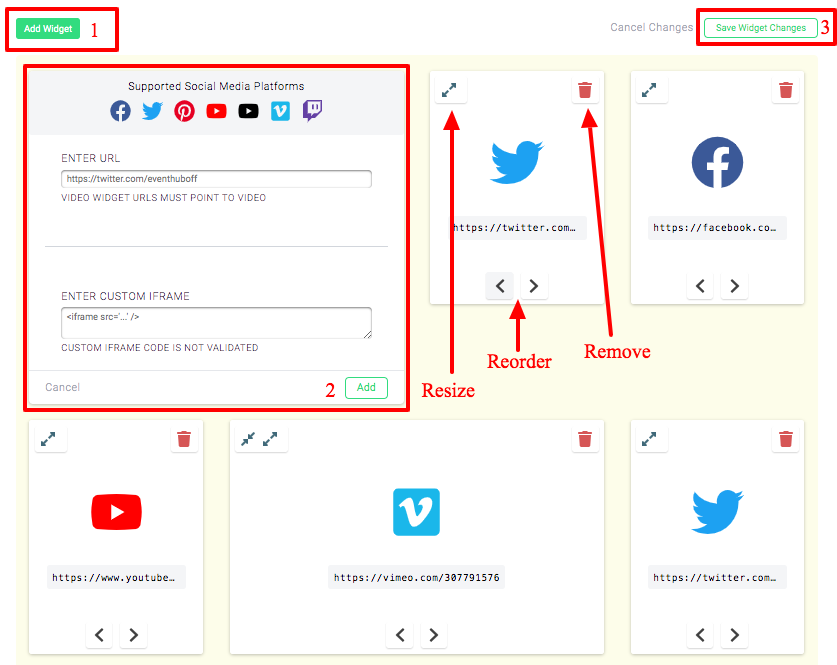 Blank screen loading? If a blank screen loads, that means the url formatting is invalid. Try again and to avoid errors, go to your social media website and copy/paste the url from the browser field.
Completed Social Widgets!

Facebook Widget Not Working?
If you're not seeing anything load in your Facebook widget, there are a couple of things to check.
We only support displaying Facebook Pages, not Events or Profiles.
We can only display Pages that are visible to people when they are not logged in to Facebook. But don't worry, you can always change your settings so that the page will display! To do this, go to the page you manage, you should see a sidebar on the left.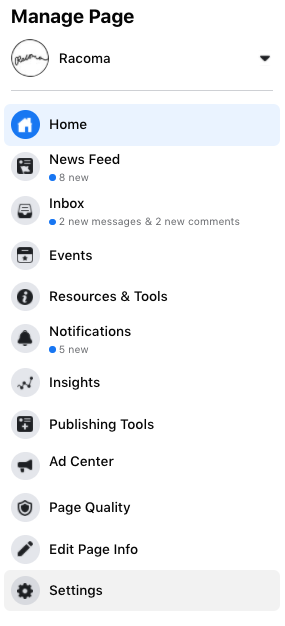 Click on Settings at the very bottom.
This should take you to a page where you're already on the first "General" tab.

You need to make sure that under Country Restrictions and Age Restrictions, it says "Page is visible to everyone." If not, click Edit on the far right and change your settings.