NOTE: YOU MUST START YOUR VIDEO CHAT FROM "EDIT MODE"

Booth representatives are to enter the video chat room in edit mode during the booth session hours to engage with attendees. If you are not in your chat room, the attendee (who access your event in attendee view) will see a sign that reads "Back soon. Leave a message!" Once you enter your chat room in edit mode, then the text "Back soon. Leave a message" will change to a "Join Live Chat" button.
This Article includes
How to Enter your Booth
Start by navigating to the main page of your booth, where you'll find yourself in "Edit Mode." In this mode, you'll be able to make any changes to your booth, including how you want to hold your virtual chat.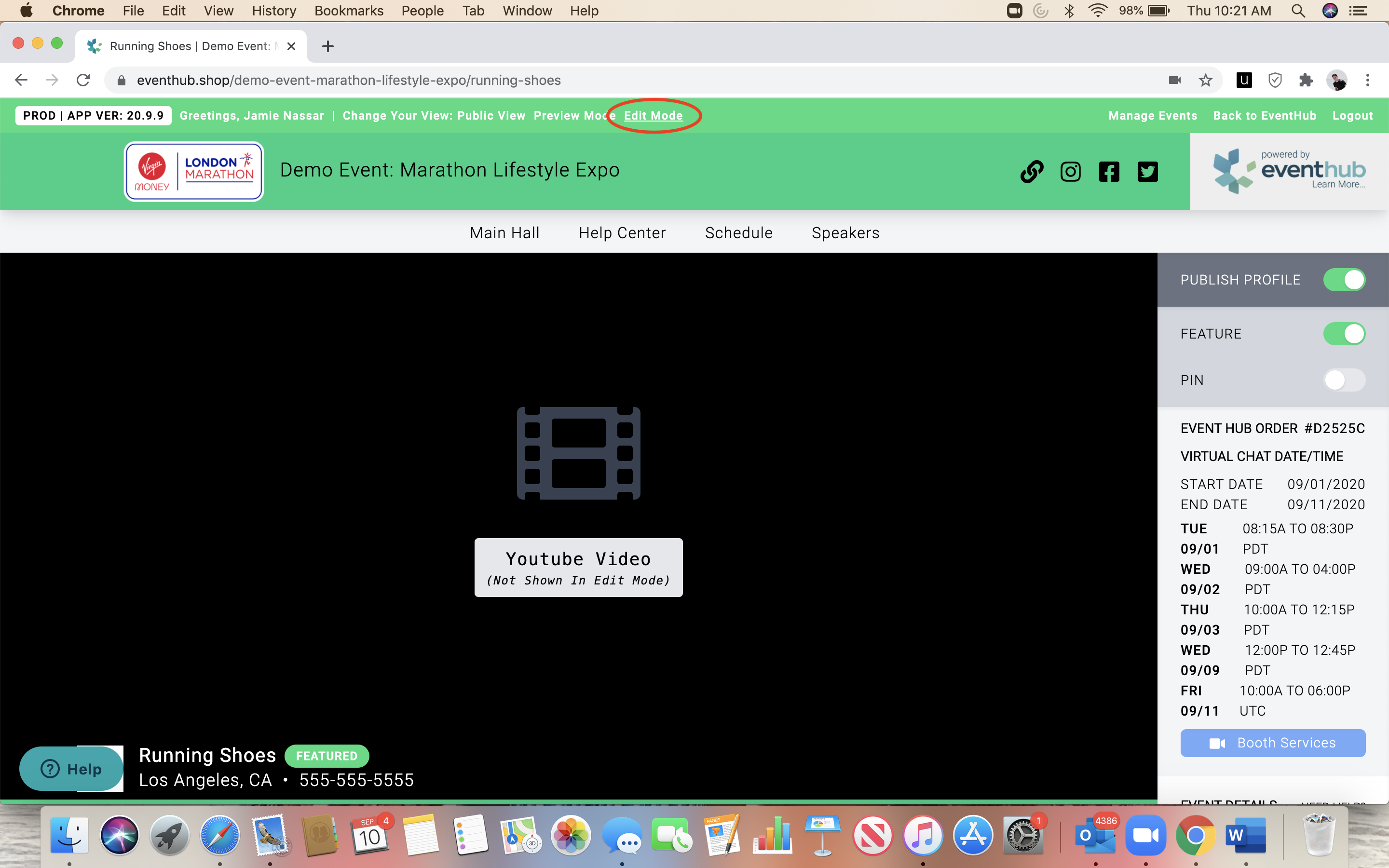 Once you've set up your video chat by following the instructions here: How to Enable Video Chat for your Virtual Booth, you're ready to test it out! At the top of your booth editing page (always in Edit Mode), and you should see a button that says "Start Practice Chat."
If you've opted for third party conferencing, the link will automatically open in a new tab. If you are using our built-in service, you'll be taken into a virtual chat on that remains on the virtual page

Now, you are officially "behind your table." While you're in your booth's virtual chat, you'll be able to connect with attendees as they join the chat. This works the same way it would in-person, and you may have to wait for attendees to visit.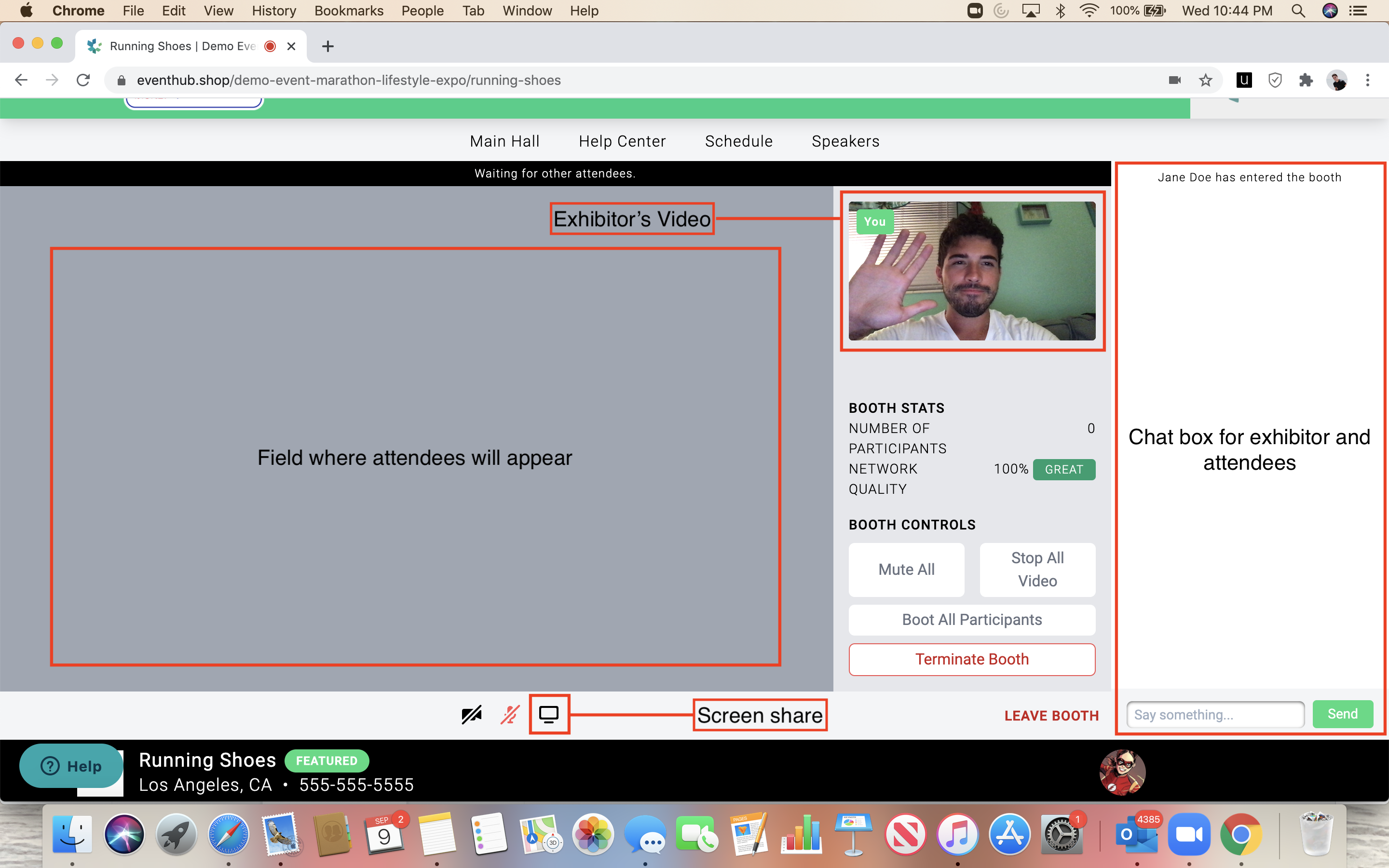 Note: Attendees can only enter your Video Chat after you have entered your chat room. **Video chat rooms are only activated during the event's Booth Session hours.
Please test your video before the event begins. You will likely have to enable camera and microphone access on your browser. CLICK HERE for step-by-step instructions on how to do this.
Having Multiple Hosts in your Video Chat Room
If you have multiple people who would like to be "in your booth" hosting it at one time, you need to share your login info with them. Once they login using your one account for your booth, they can access your booth page in "Edit Mode." If they need help accessing your virtual booth, please refer them to this Help Article.
Once here, they click "Start Live Chat" to be in the virtual chat room together. All Hosts will appear on the right hand side of the video chat.
What The Different Chat Buttons Mean
Before the event goes live - "Start Practice Chat"

This button will remain available for practice until 30 minutes before the event start time.
Clicking this button will start a practice video chat that will expire after 5 minutes. If you need longer than this, just rejoin by clicking the "Start practice chat" button again.
If you switch to Attendee View while practice chat is available, you will NOT see a button to start the video chat. Do not panic, as soon as the event starts, a button to enter the Video Chat with you will appear on the Attendee View.
As an exhibitor, and the person who will be "In the booth" for the virtual video sessions, you should always be in Edit Mode.
When the event goes live - "Start Live Chat"
From your perspective in Edit Mode, the button will change to say "Start Live Chat"

From an attendee perspective

They will see what's under the Attendee View link that you share with supporters to find your booth.

You should NOT be under Attendee View to work your booth. You should always be in Edit Mode.

When you have started the live chat on your end, attendees will see a button that says "Join Live Chat."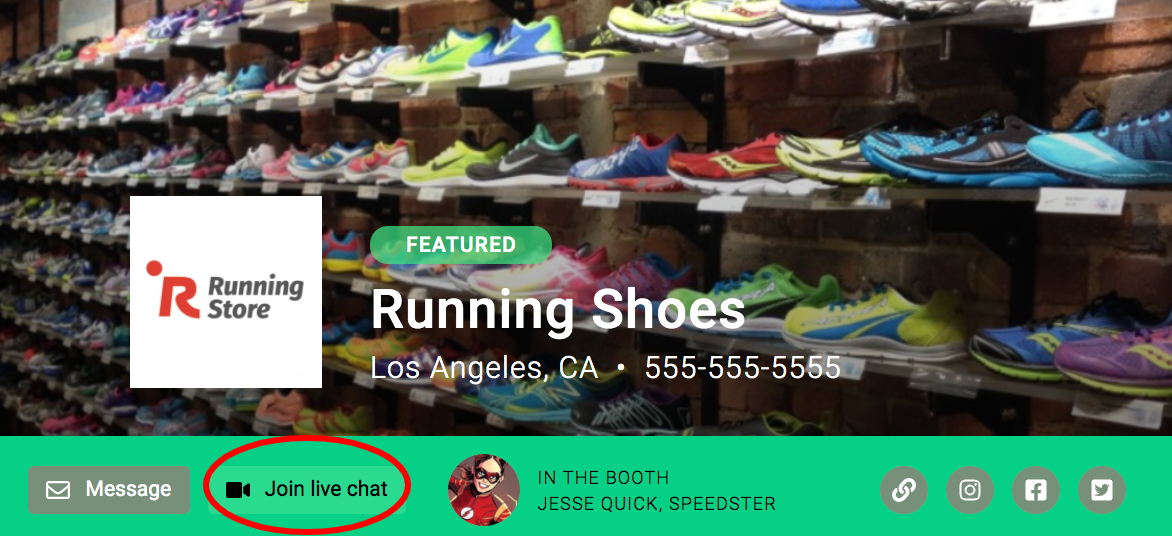 If you have set a participant limit, and the live chat is full, someone who comes to your page will still see the above "Join live chat" button, but when they click on it, they'll be taken to a page that says "Booth is currently full...Please Try again later." and then it will automatically redirect them back to your booth page.

If you need a break, as the presenter in Edit Mode, select "Leave Booth" from the video chat.

On the public view, attendees will now see a button that says "Back soon! Leave a message" when they come to your booth page. There is an arrow that points to the "Message" button where attendees can send you a note while you're unavailable.

Enabling Camera and Microphone Access
To do this in Chrome, find the three dots (or red circle, if you need to update) in the top right of your browser window. Click this, then click "Settings" at the bottom of the dropdown that appears. From the settings page, select "Privacy and security" on the lefthand menu.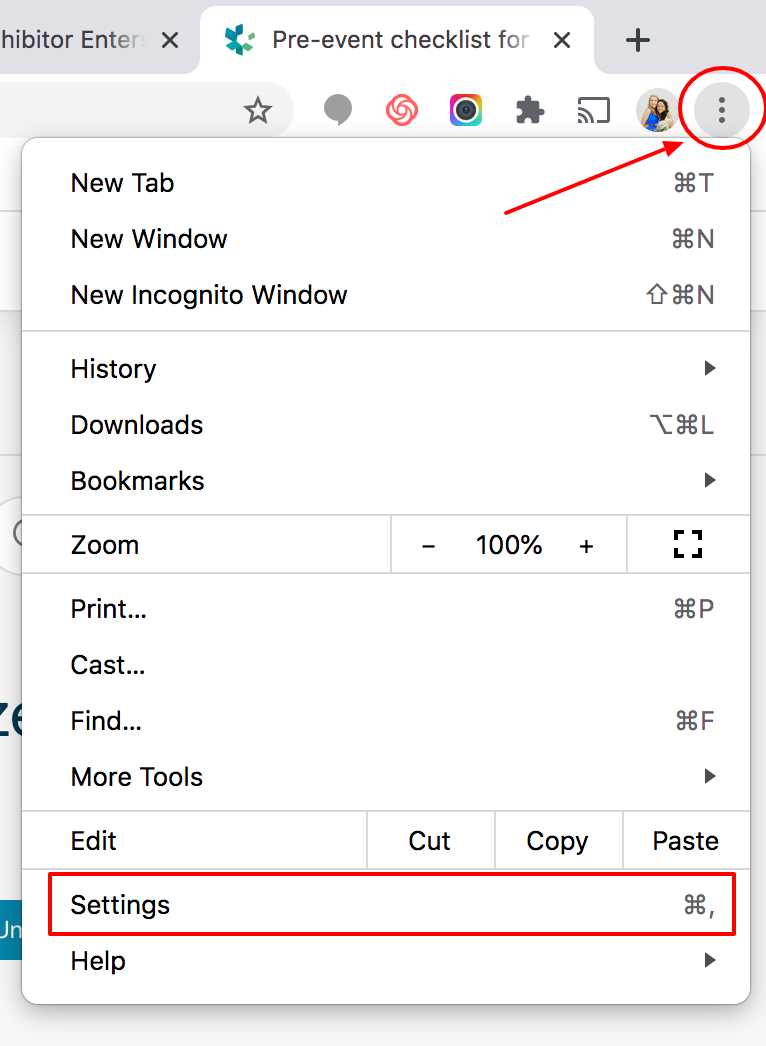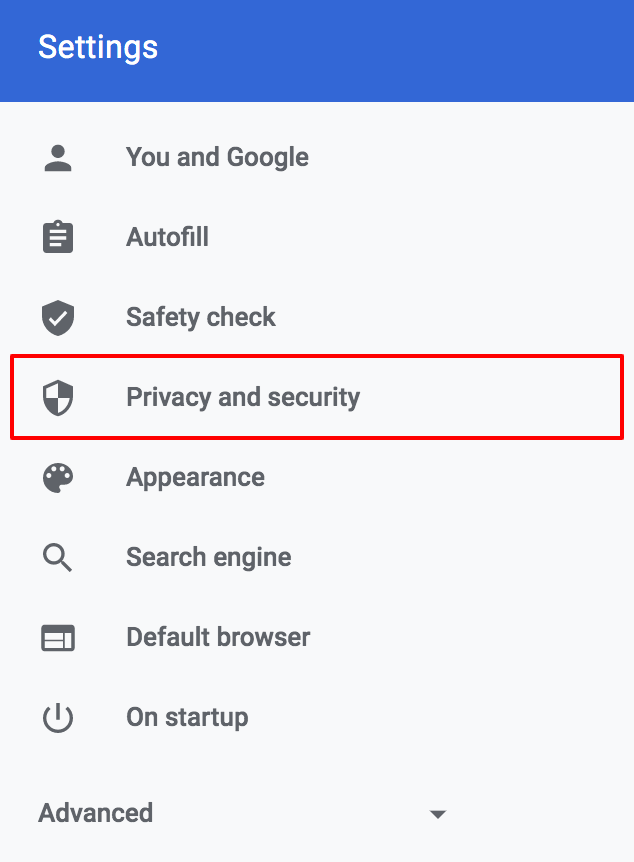 Click on "Site Settings"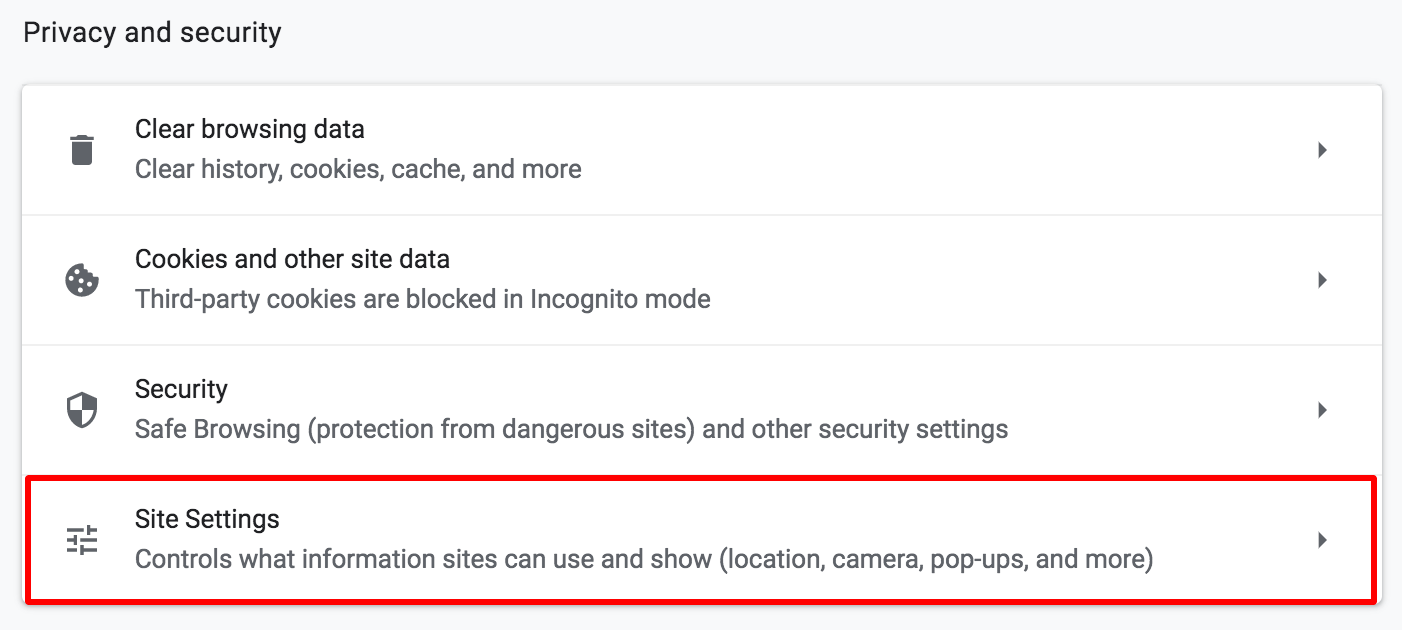 Then scroll down to the "Permissions" section and set camera and microphone to "Ask before accessing."

Return to your EventHub booth webpage. If the video is still not working, simply refresh the page and try to start a video session again. If you're still having issues, try a hard refresh by pressing the keys command-shift-R. If it still doesn't work, please contact us at help@eventhub.net.