Topics Covered:
Notes Before You Begin:
Recording refunds on the "Refunds" Tab on your Submissions Dashboard will NOT process a refund through your chosen payment gateway. This is for recording purposes only.

Sub-users at the Coordinator level will not have access to this feature.
Refunding Orders Paid by Check or Alt. Payment
The "Refunds" Tab
After an order paid via Check or Alt. Payment (outside of EventHub) is modified or is cancelled, based on your terms and cancellation policy, you will need to record a refund if one is given. These refunds can be recorded from the Refunds tab on your Submissions Dashboard.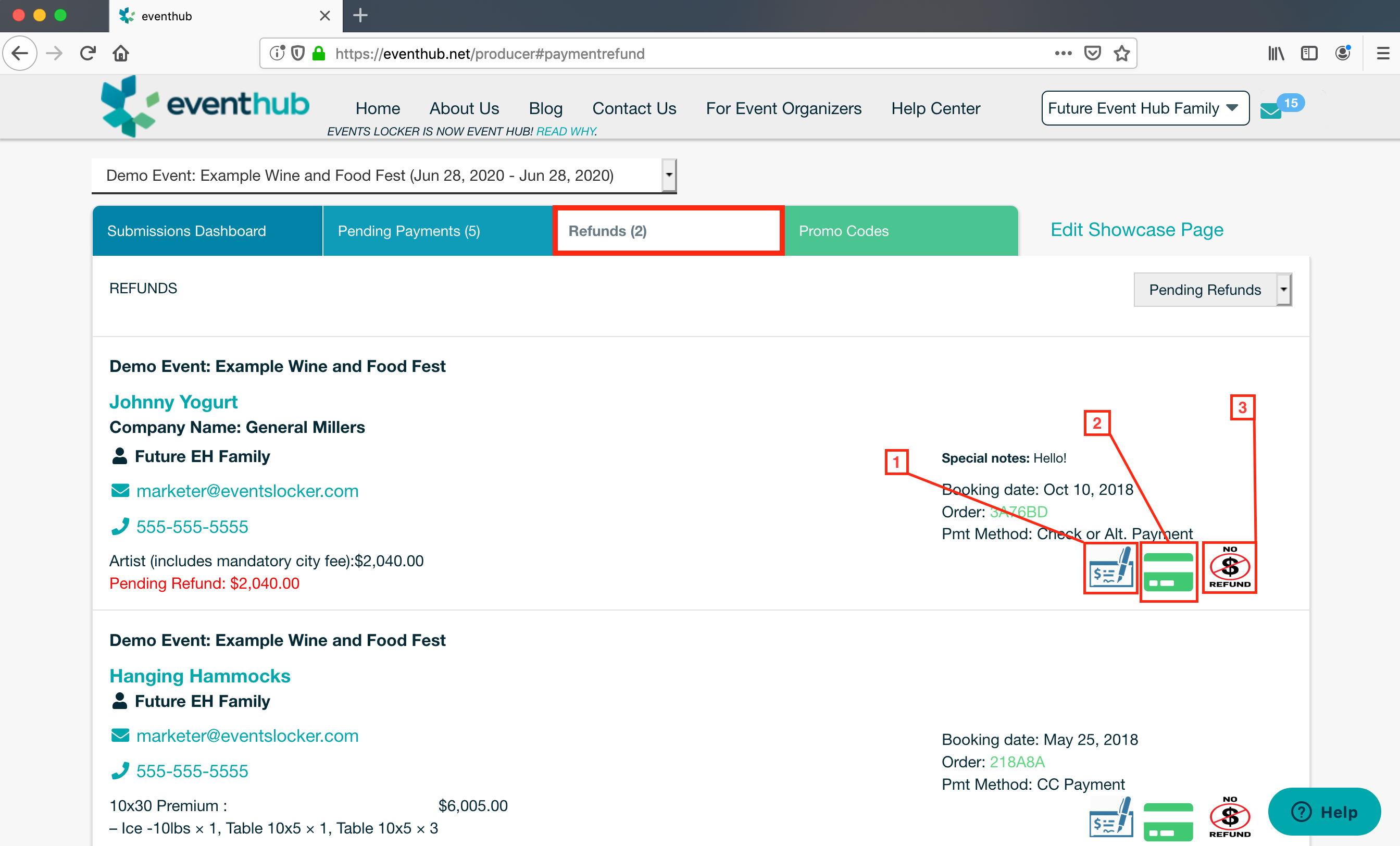 1. Check/Alt. Refund - Refunds issued via check or an alt. payment method should be marked by clicking the check icon.
2. CC Refund - Select this method of refund if you have or intend to issue an offline refund.
3. No Refund - If an order has been cancelled, but will not receive a refund (as per your terms), you can select this icon.
Record a Refund
To record a refund for an order paid outside of EventHub after cancellation, first select the payment method for the refund. When you do, you will see the following pop-up. You can input the dollar amount of the refund, either full or partial, and the reason for the refund. If you did not issue a full refund, be sure to list why in the Reason box as well. Then, select Yes to confirm.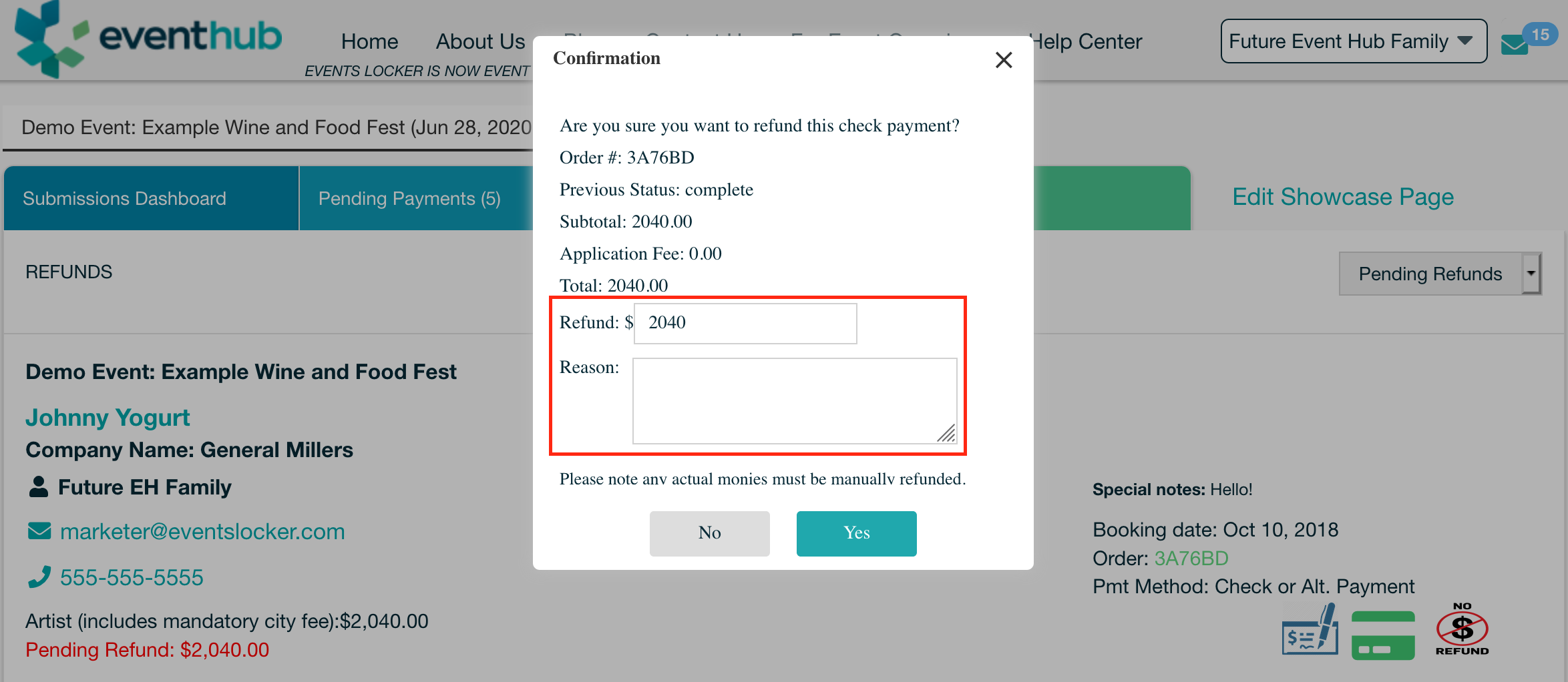 Refunding Orders Paid Through a Payment Gateway
If you are cancelling an order that paid through your chosen Payment Gateway (Stripe, PayPal, or Authorize.net), follow these steps.
Find their Order Summary on your Submissions Dashboard and click the red X Cancellation button. When you do, a pop-up will appear to confirm the cancellation.
Special Note for PayPal: As of October 11, 2019, PayPal updated its Policies and Procedures and will not refund processing fees (2.9% + $0.30) when you refund an exhibitor through a PayPal payment gateway. If you have any questions about this, contact PayPal directly.
You can choose the amount to refund, based on your Terms and Cancellation Policy, and specify the reason for cancellation or for the refund amount. The amount specified here will be the amount that is refunded through your payment gateway. Once you click "Yes" to confirm, the refund will process.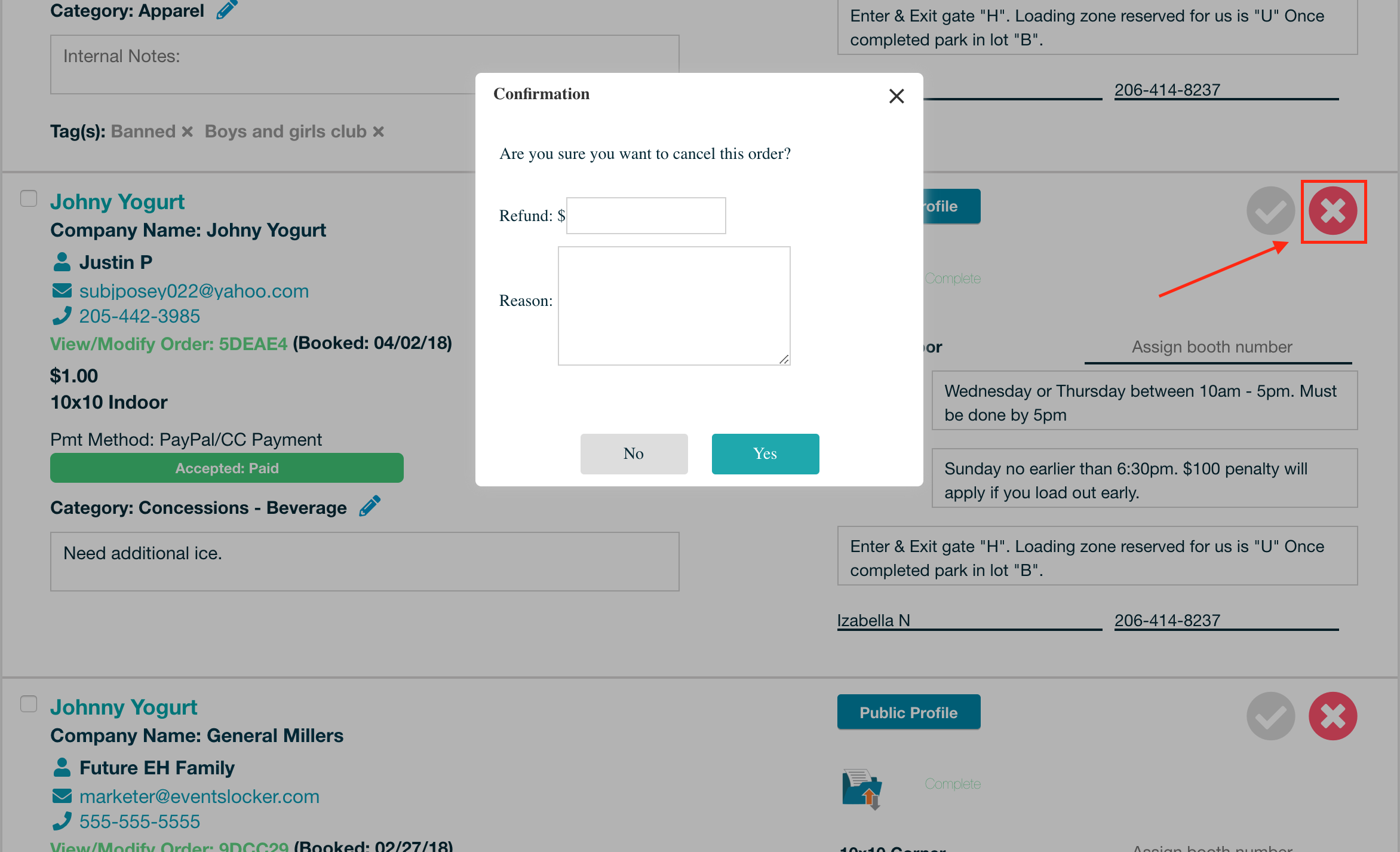 Refunding Order on Installment Plan
If you are cancelling and refunding an order that has chosen to pay with an Installment Plan, you should follow the steps above. If you are refunding the entire amount paid to date, you should put that amount in the space for the refund amount.
After confirming the cancellation and refund, you will need to take the additional step of logging into your merchant account and Cancel the Subscription (recurring payments).
This is the view on PayPal: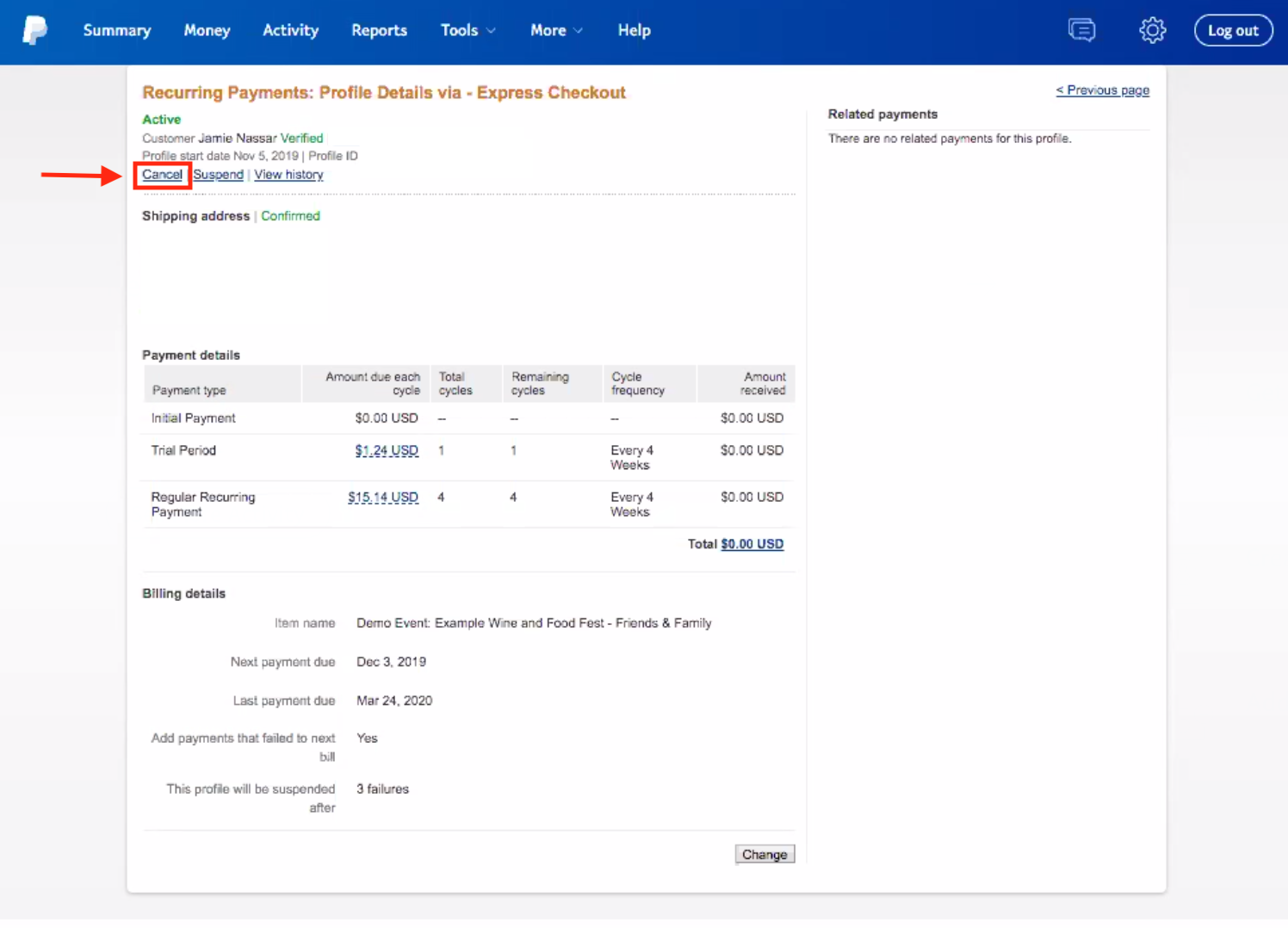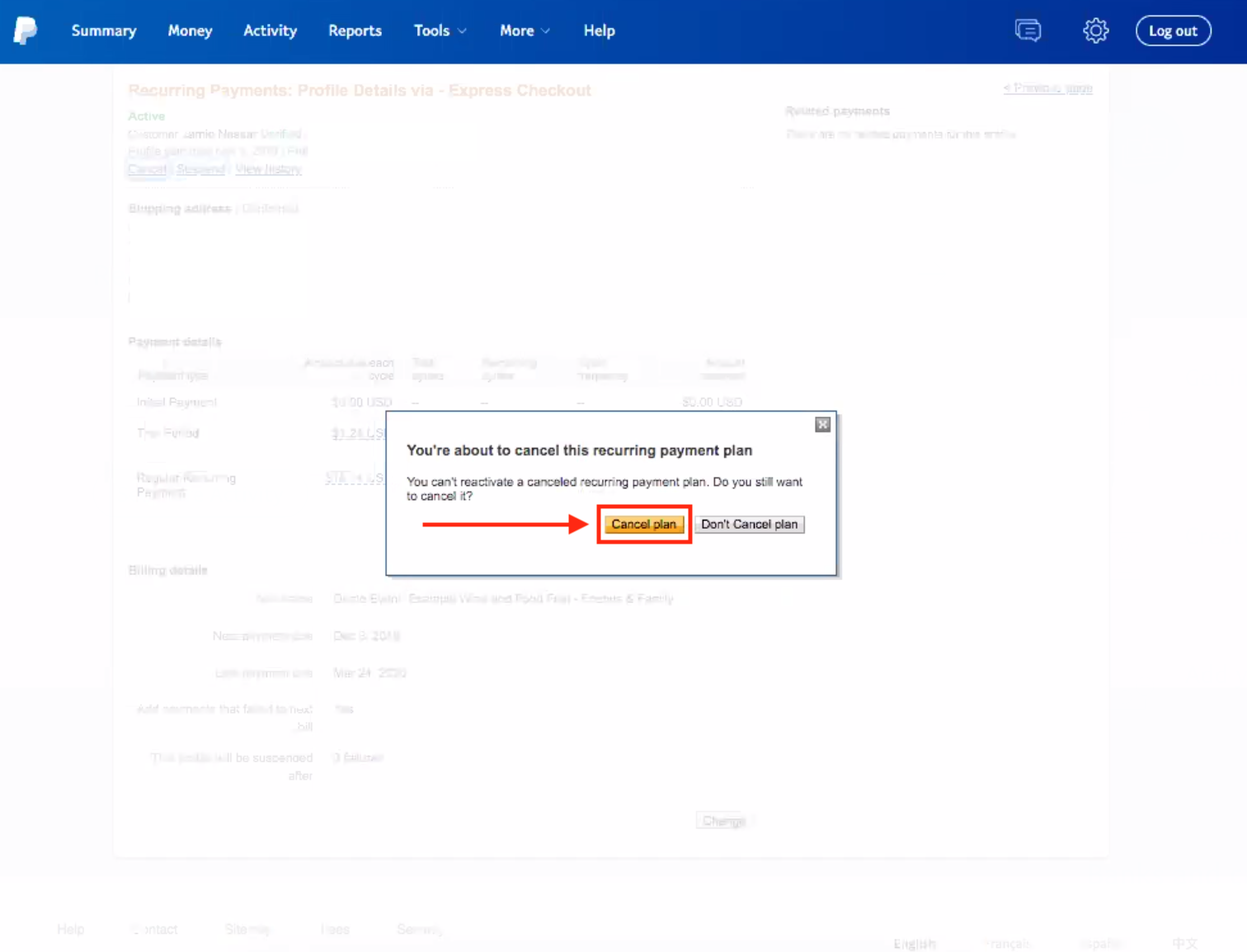 Choosing "No Refund" for Cancelled Orders
If your Event Terms and Cancellation Policy states that no refunds will be given, you can select No Refund for cancelled orders. Add any notes for the Reason of selecting No Refund in the pop-up that appears, and click Yes to confirm.
On the "Refunds" Tab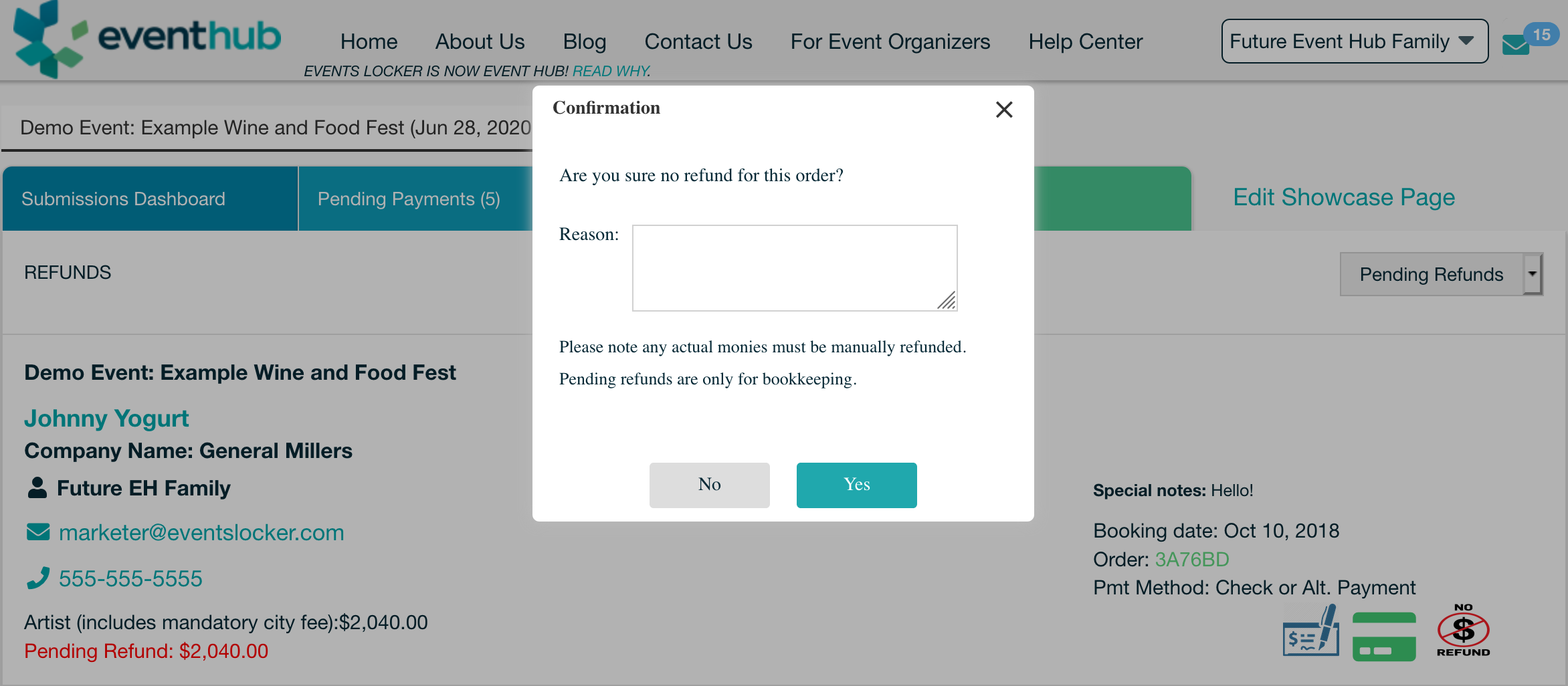 For Orders Paid Through a Payment Gateway
When you cancel an order paid through a Payment Gateway but no refund is due, you can change the refund amount to $0.00 in the pop-up that appears to confirm the cancellation. This will cancel the order with no refund.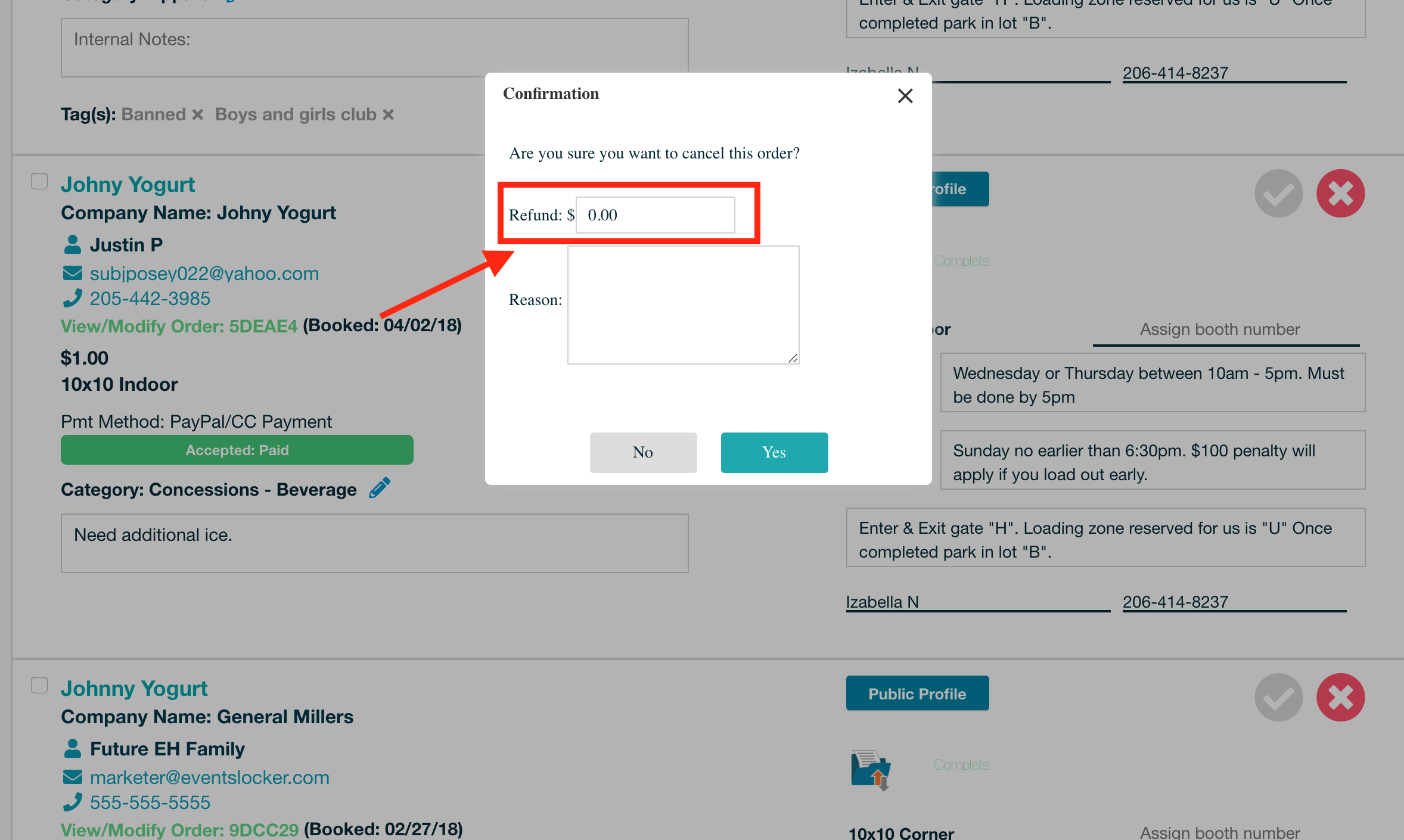 Suggested Articles: