This upgrade allows you to swap out a custom logo for the "Presented By" logo in the upper-right hand corner of your virtual event. See below to find out how!
Logo Swap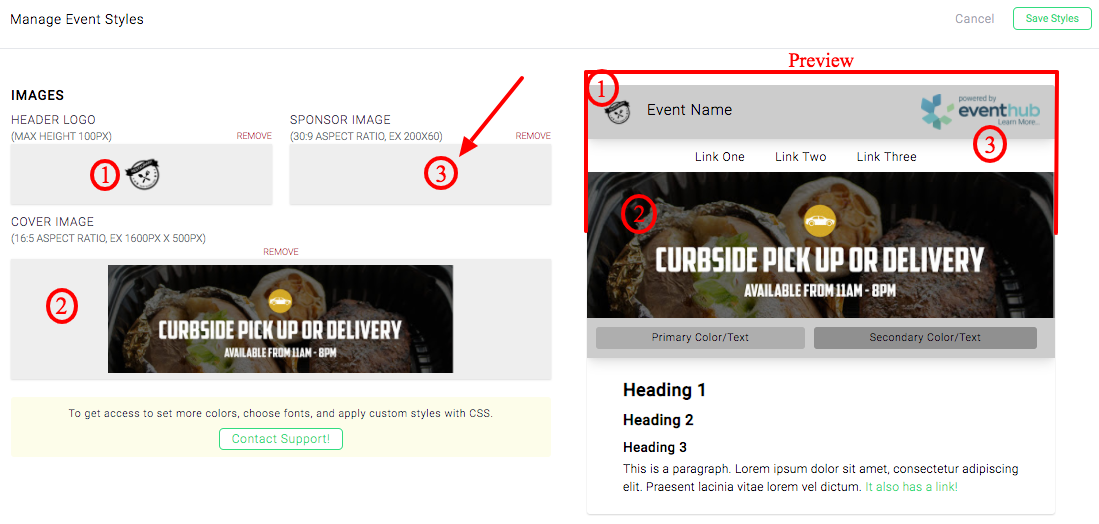 Here, you'll see the following Styling elements that are part of the base package:
Header Logo: This goes in the upper left of your event, across all pages.
Cover Image: This appears at the top of your event's Main Hall landing page.
The Logo Swap upgrade unlocks access to #3 in this image. Whatever you upload here will replace the default "Presented by EventHub" logo in the upper right corner of the preview image, as well as on all your event pages.
Click into the empty grey box, then select an image to upload.
Image guidelines:
Accepted file types: jpeg, jpg and png only.
Accepted size: 30:9 aspect ratio, for example, 200px by 60px
We recommend you upload a png, because those have transparent backgrounds. Otherwise, if your background is a different color from your Header color, it will show up in a square.
When you select an image, you'll have the opportunity to crop it on EventHub, so it's alright if you don't have it to the exact dimensions when you click to upload it. You can click "Preview Crop" to see what it'll look like, and once you're happy with it, choose "Upload Image."
Then you'll see it on your Manage Event Styles page, reflected in the preview on the right.

If you don't like it, you can click "REMOVE" by the Sponsor Image, and upload a different one.
Once you're happy with it, remember to click Save Styles in the upper right.
Congrats! You will now see your new custom Sponsor Logo in the upper right hand corner of all the pages of your event!
If you have questions, please email help@eventhub.net.