What are Social Widgets?
The Social Widgets is a simple sidebar widget that allows users to input their social media website profile URLs and other subscription options to show an icon on the virtual main hall page to that social media site and more that open up in a separate browser window.
Targeting Your Audience
Before you think about the logistics of integrating social channels, start with your target audience. Ask yourself which social networks your audience is active in.
Supported Social Media Platforms
EventHub supports the following social media platforms: Facebook, Twitter, Pinterest, YouTube, Vimeo, and Twitch.
NOTE: For Pinterest, we only support links to boards, not profiles or individual posts.

Click on the green "Manage Widgets" button. Click the green "Add Widget" button. Enter the URL (use the example formatting entered in the URL field that starts with https://). Then click the "Add" button. After you add the social widget, you will be able to resize the box, reorder the widgets, and remove the widget. Then click "Save Widget Changes". Don't forget to preview your work to ensure you entered the correct url for your organization.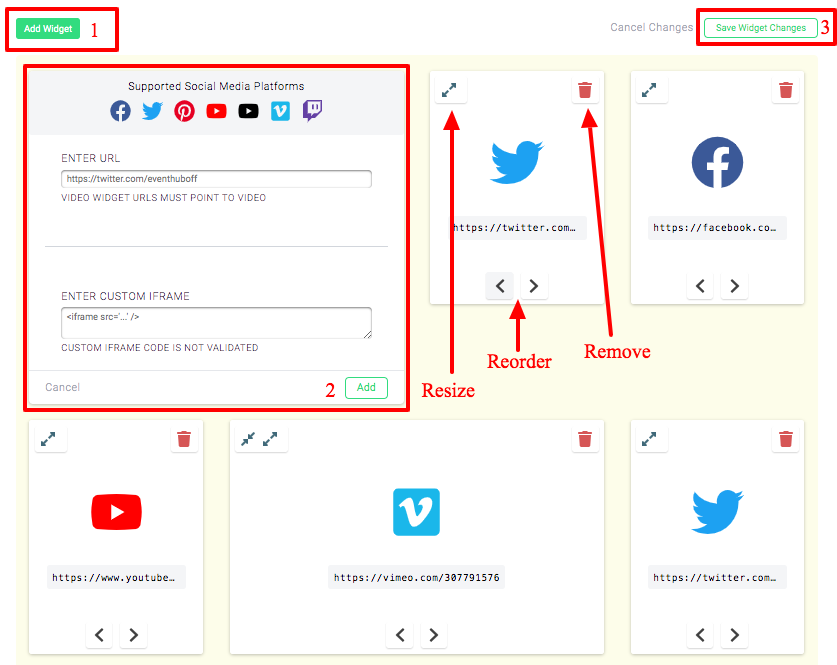 Blank screen loading? If a blank screen loads, that means the url formatting is invalid. Try again and to avoid errors, go to your social media website and copy/paste the url from the browser field.
Completed Social Widgets!