Topics Covered:
Note Before You Begin:
Accessing Your Live Floor Plan
Your Live Floor Plan editor/manager can be accessed through your Submissions Dashboard. Just click the Manage Life Floor Plan button!
If you would like to see what your exhibitors will see or grab the link to for the public-facing map, click the Public Floor Plan Link button right below that.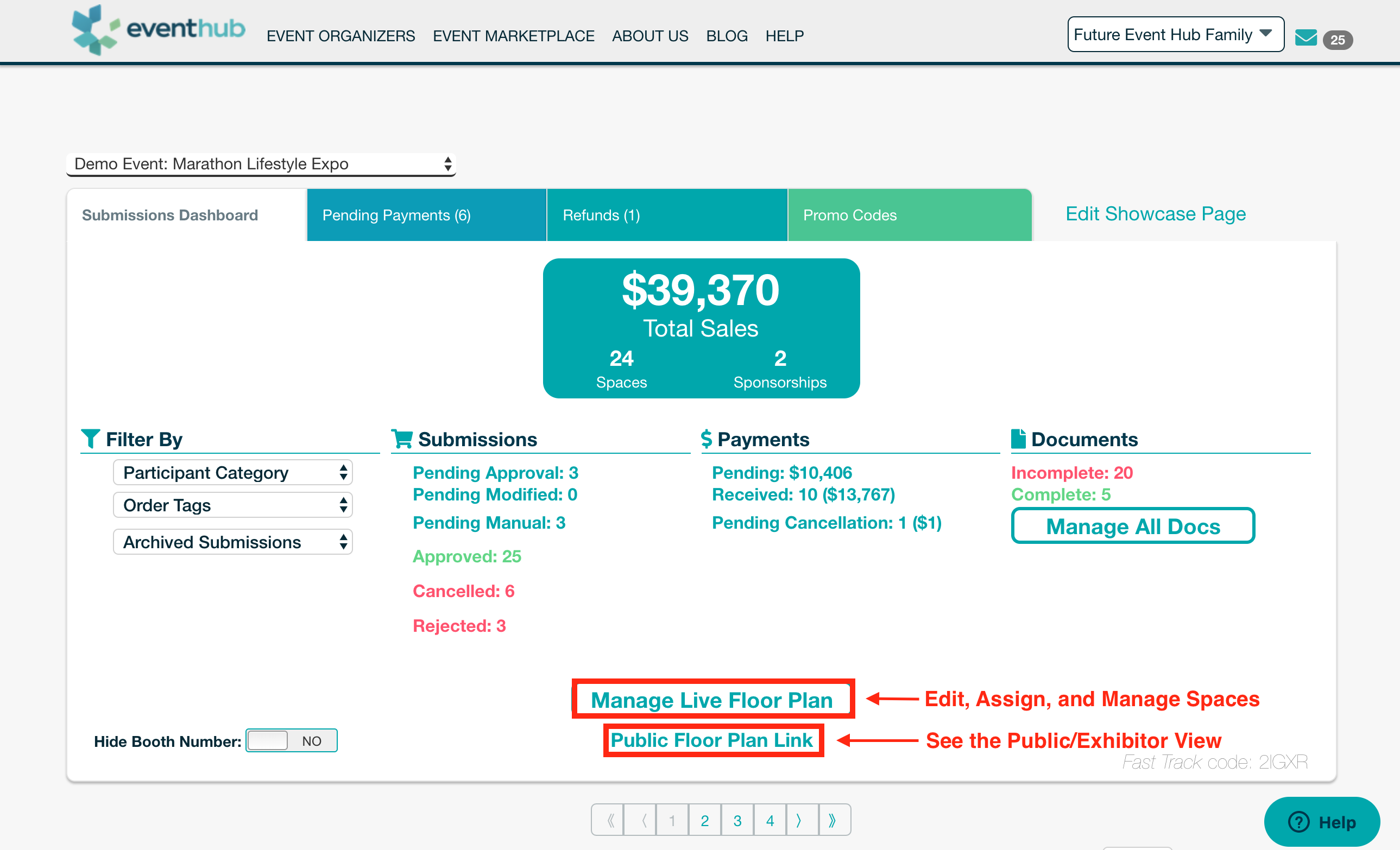 Customizing Your Map Settings
Once your live floor plan has been developed, there are some settings that can be decided and changed on your end. These settings can be found on the Pricing tab of your Edit Showcase Page wizard where you added your booth types.
Choose Your Booth Selection Preferences
There are two different settings you can choose from to customize the checkout experience for your exhibitors. The first is to allow them to choose their own booth space. The second option, which is much more popular, is to let your exhibitors give you their top 3 preferred spaces during checkout. You are not bound to this choice at all, but it is a nice way to ask your exhibitors for their input!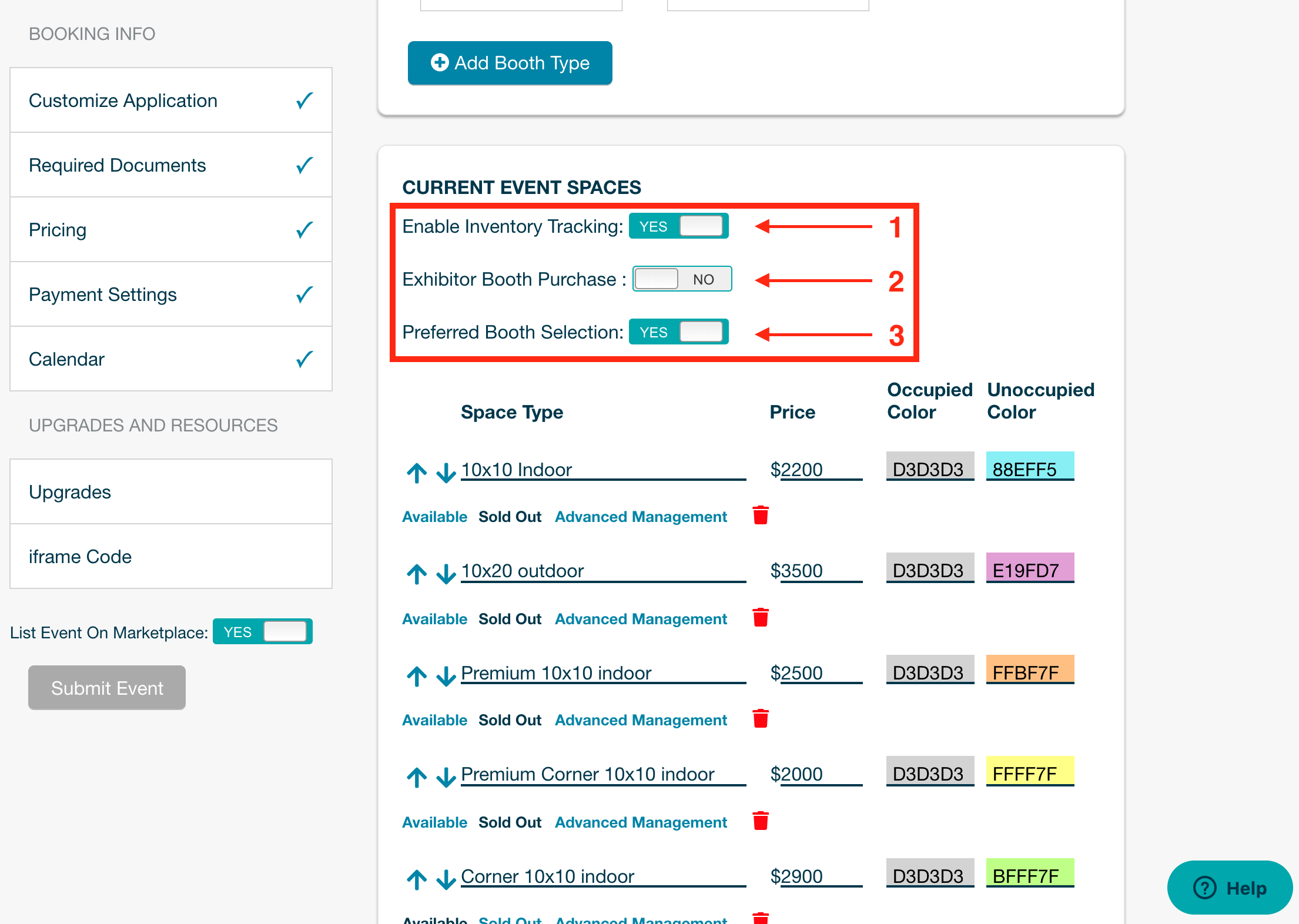 1. Enable Inventory Tracking - Leave this turned on at all times. This allows for communication between your Submissions Dashboard and your Live Floor Plan. Only those without the live floor plan need to choose whether or not to have this turned on!
2. Exhibitor Booth Purchase - Turning this toggle on will let your exhibitors choose their own booth space during checkout. While you can change their assignment if necessary, this option should only be used if you are comfortable with your exhibitors assigning themselves to a space.
3. Preferred Booth Selection - This setting will allow your exhibitors to choose up to 3 booth spaces as a preference during checkout. This is input only, and you will be able to assign them wherever you need them to be. However, it is a great way to gather preferences and invite them to participate a bit more in creating a positive experience!
Change Your Booth Colors
When we sync your map up to your page, we will set some default colors for your booths (likely based on your logo colors), but you are more than welcome to customize this for your event! To update your colors, all you need to do is click on the color code, and choose from the color box that appears. Alternatively, if you have a specific HTML color code you'd like to use, you can input the code.
The Occupied Color is the color that the booth will change too once someone has been assigned to the space. Gray and red are popular choices!
The Unoccupied Color is the color that the booth type will appear when empty.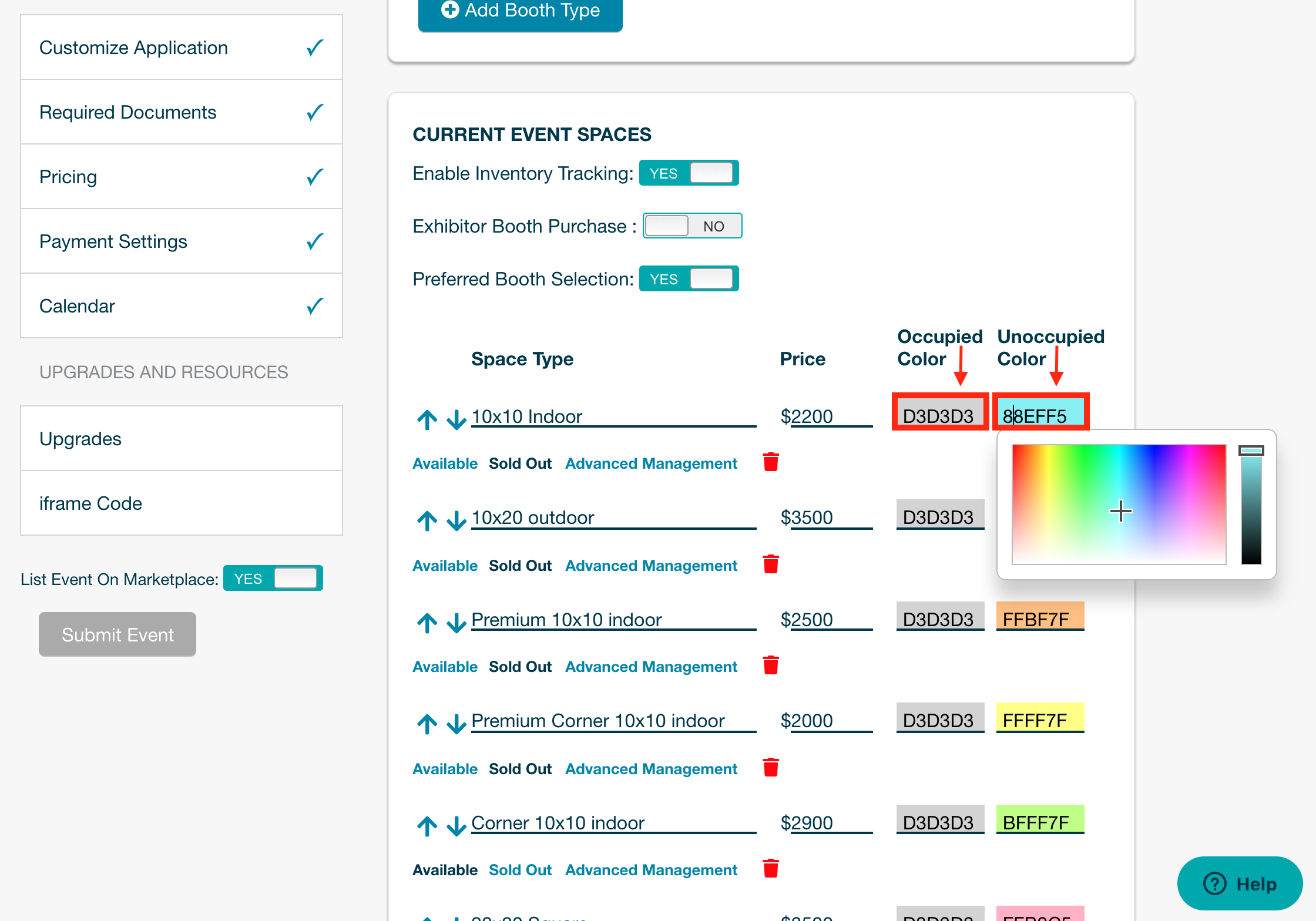 Adding and Removing Booths
Adding and removing booths on your Live Floor Plan to accommodate layout changes is easy and convenient. The power to do this is in your hands!
To add a booth click one of the starter block sizes on the top left corner. You can choose 10 x 10 or 20 x 20 (the size can be changed later). Once you do, a ghost block will appear. in the top left corner of your map. Drag this to where you would like it to be. It is your new booth!
Next, you can give the booth a Number, assign it a Booth Type, and make sure to make the booth purchasable (otherwise, your exhibitors will not be able to choose this as a space). Don't forget to hit the blue Update Booth Information button!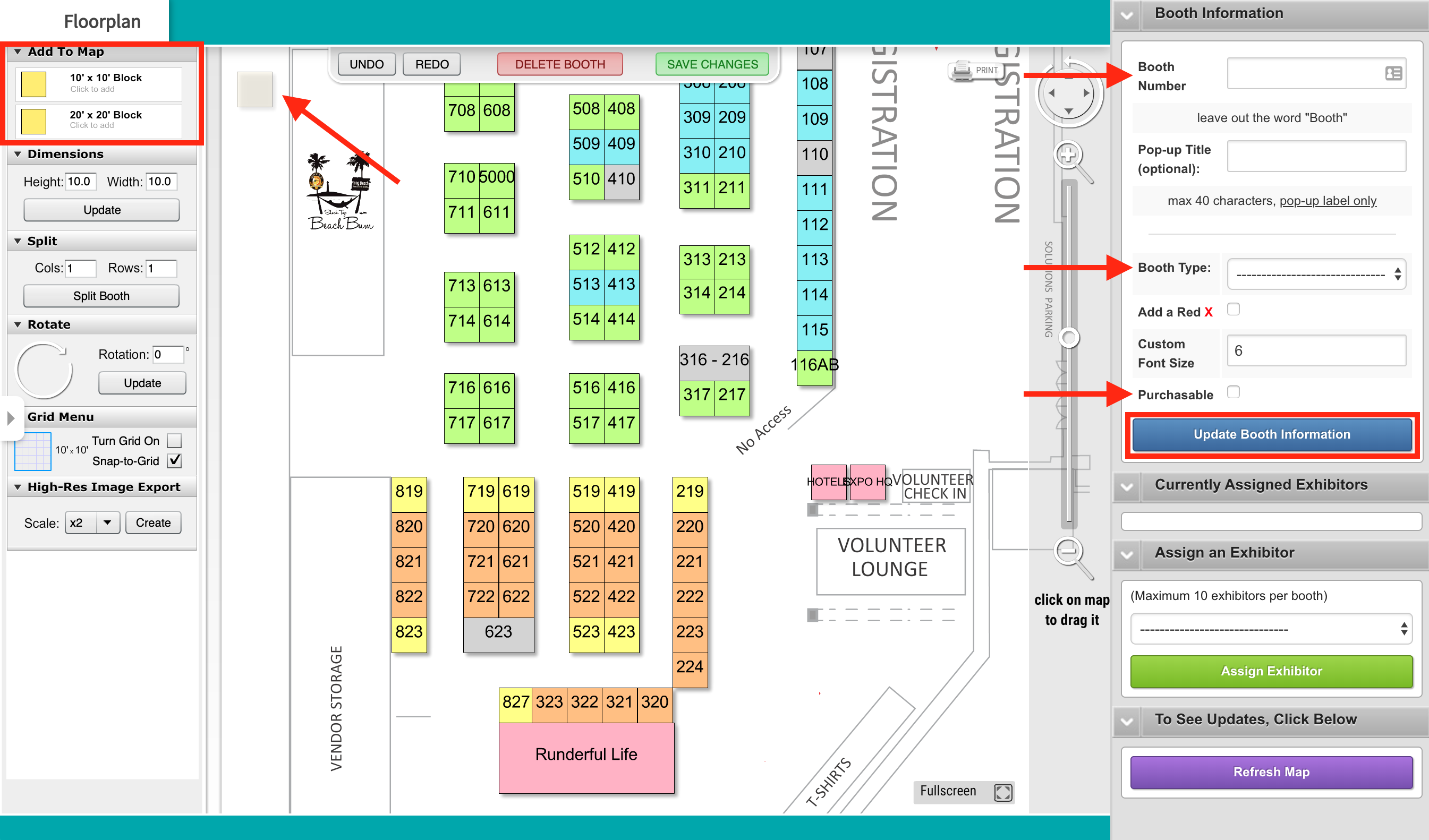 Need to resize the booth? Don't worry - we'll go over that in the next section below!
To delete a booth, just click on the booth and then the Delete Booth button on the top middle of the screen.
To push your changes live immediately, click the Save Changes button. Otherwise, it may take some time to update to your Public Floor Plan Link!
If you'd like to see changes you make as you go, click the purple Refresh Map button on the lower right side.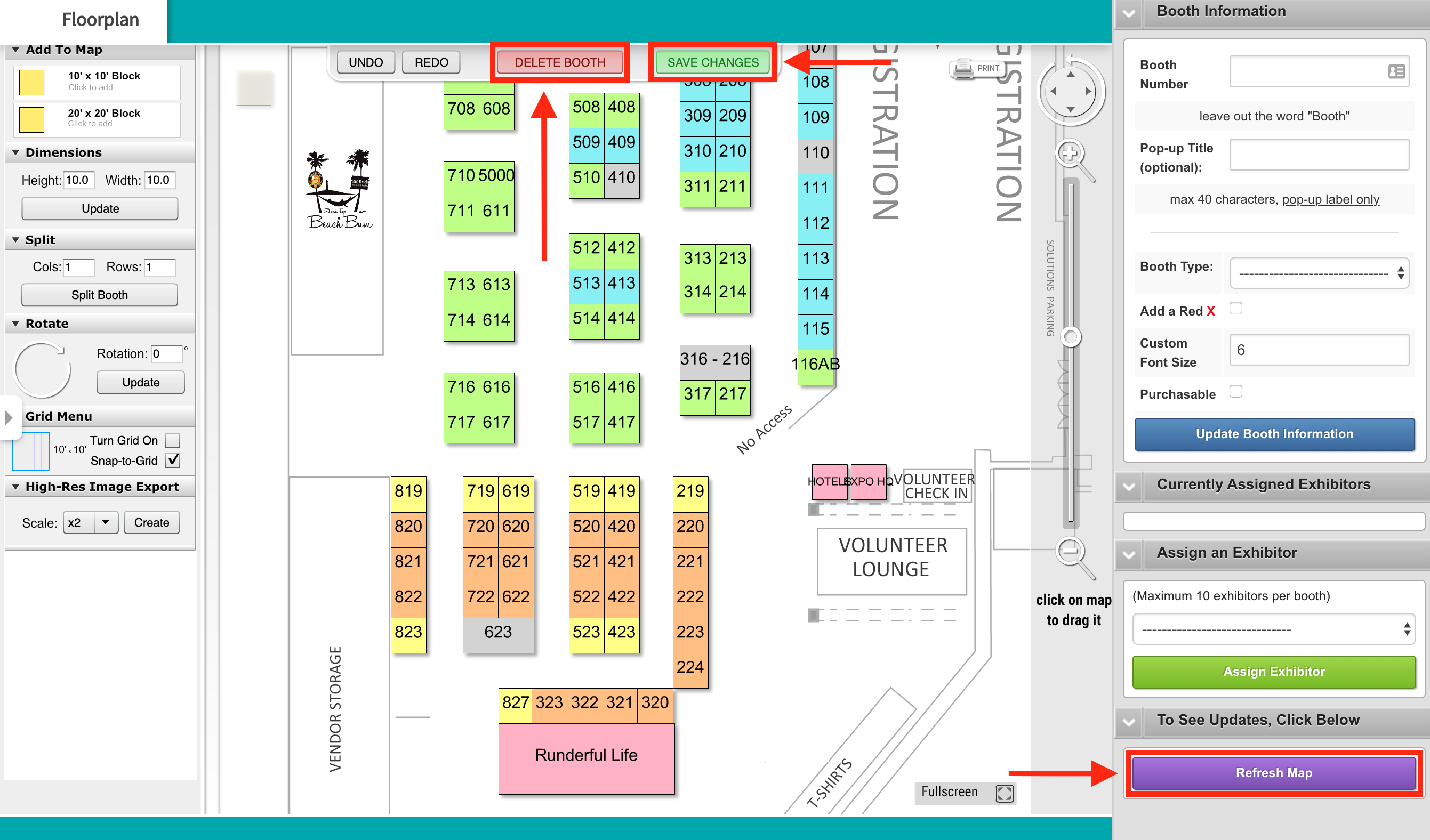 Changing Booths
If you need to make some changes to new or existing booths, you can start with the left side column to change the physical structure of the booth.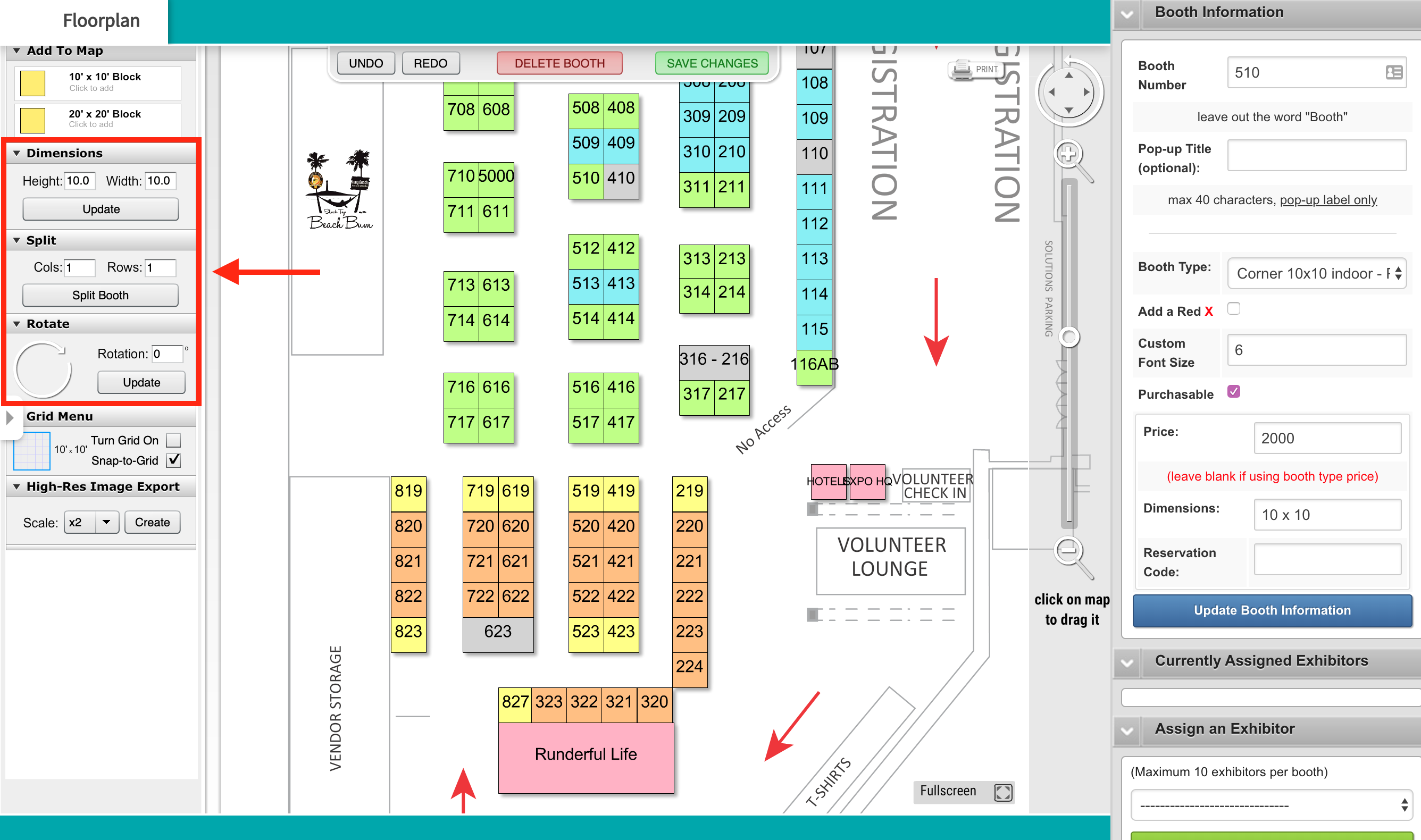 1. Dimensions - This is how you can change the size of your booth. Just add the height (top to bottom on your screen) and width (side to side) and click Update.
2. Split - This allows you to split up the booth. For example, a 10x10 booth could be split into 2 columns and 2 rows creating 4 5X5 booths.
3. Rotate - This allows you to adjust the angle that the booth will display.
Once the physical aspects of the booth are set, you can update other attributes on the right-side column.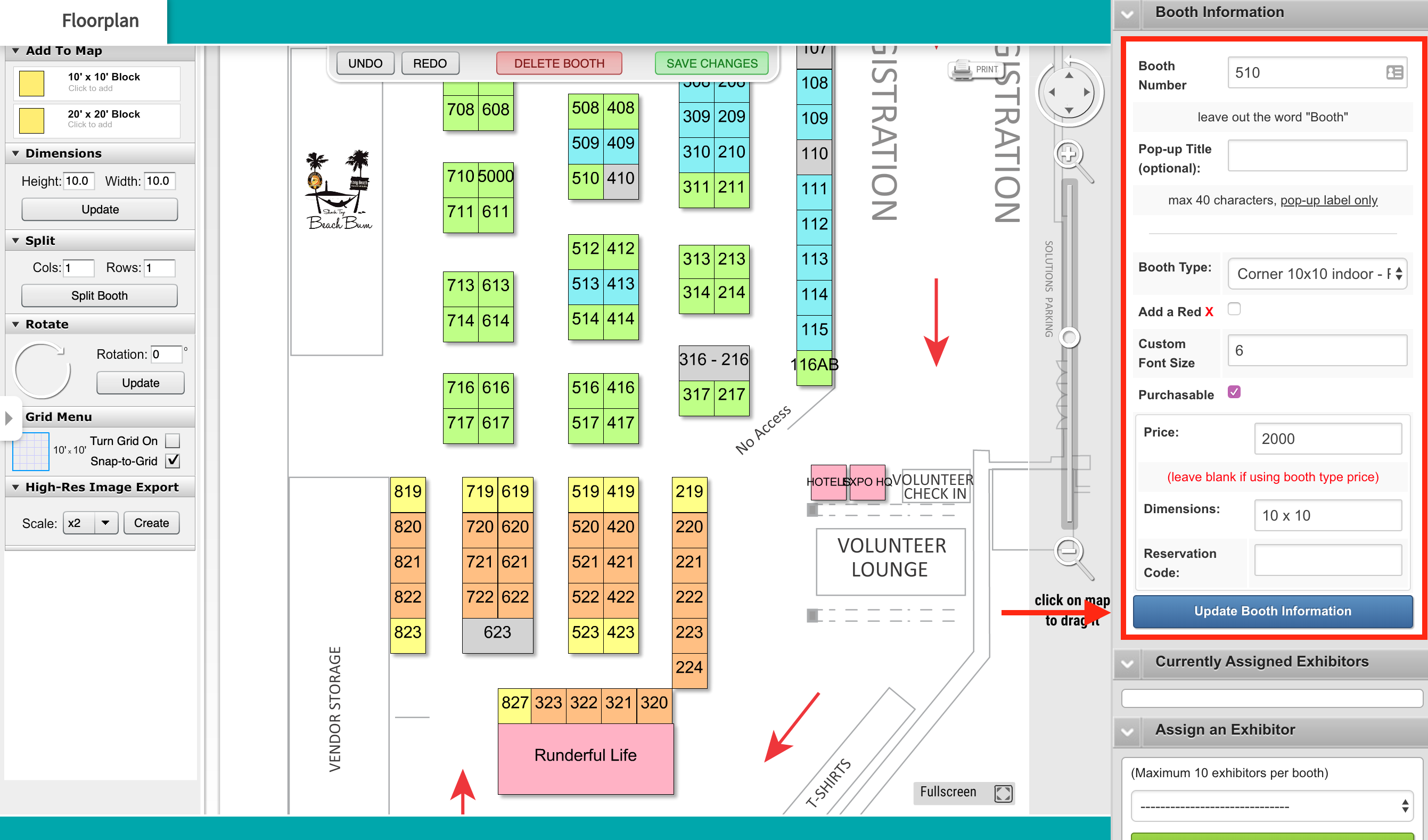 1. Booth Number - This is the unique identifier of your booth, most often this will be a sequential number but you may choose to set it to any unique tag you like.
2. Pop-up Title - You can add an additional title that will appear in the pop-up when hovering over a booth on the Public View of your floor plan. This can be anything! "Sponsor", "Power/No Power", "etc.
3. Booth Type - This lets your exhibitors know what booth types they can/should choose during checkout based on what they are purchasing.
4. Red X - This adds a red X overlay onto a booth. This can be great to signal that a booth is unpurchasable or reserved. See this article for more!
5. Purchasable - This denotes whether a booth will be allowed to be selected at checkout. If this is not checked then that booth cannot be selected as a booth by exhibitors. But sometimes you may want to leave it unchecked to denote a spaced reserved for your sponsors. If you'd like to keep a booth unpurchasable (to set aside for sponsors etc.), you can leave this unchecked.
Once you have the information set be sure to click "Update Booth Information" to save your changes!
Assigning Exhibitors to Spaces
Now that your booths are set up, you can assign exhibitors and sponsors to the spaces.
To do that just select the drop-down under "Assign an Exhibitor" and select the exhibitor you want to set to that booth. Then click the green Assign Exhibitor button.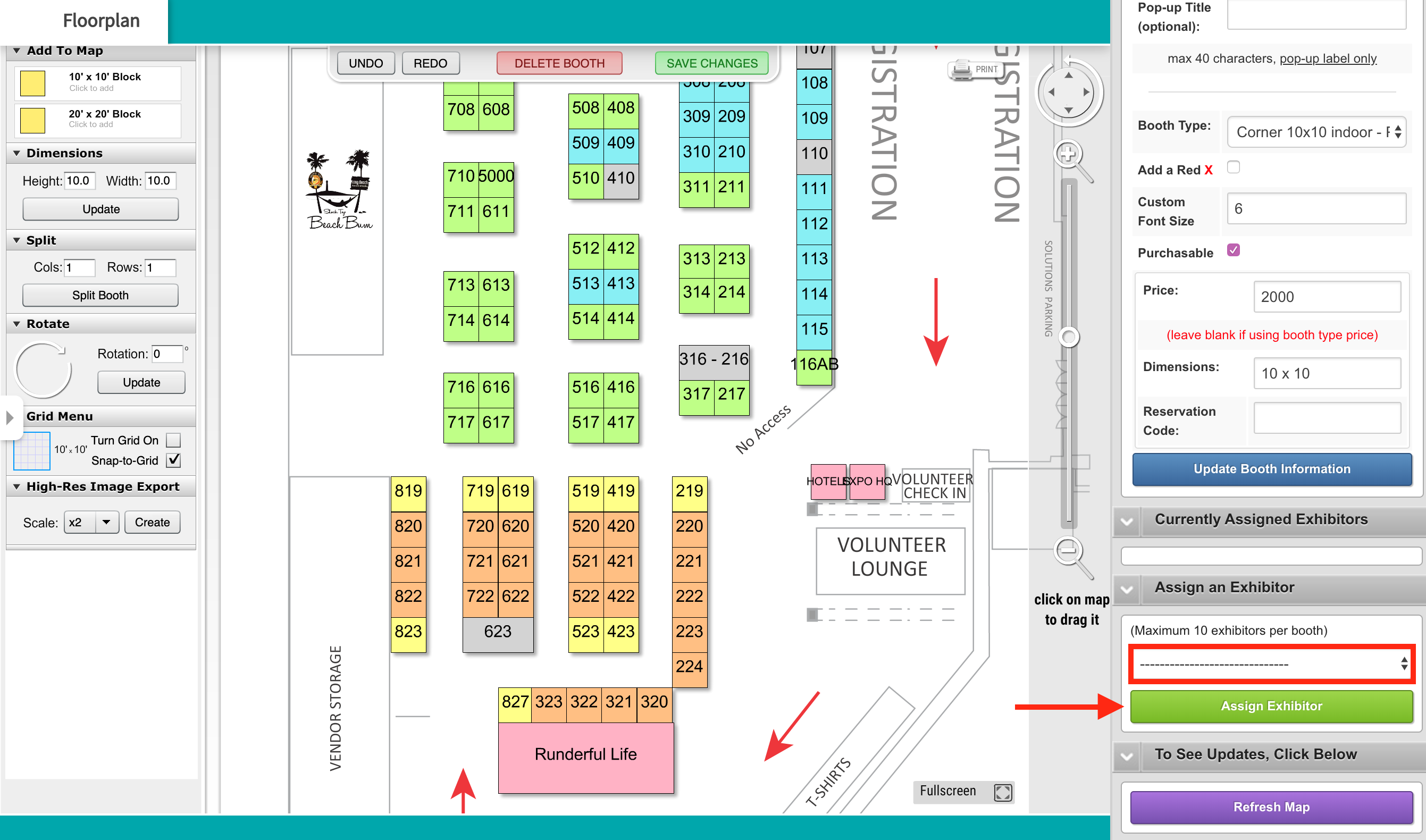 After you assign an order to a space, you can see who is assigned under the Currently assigned Exhibitors section.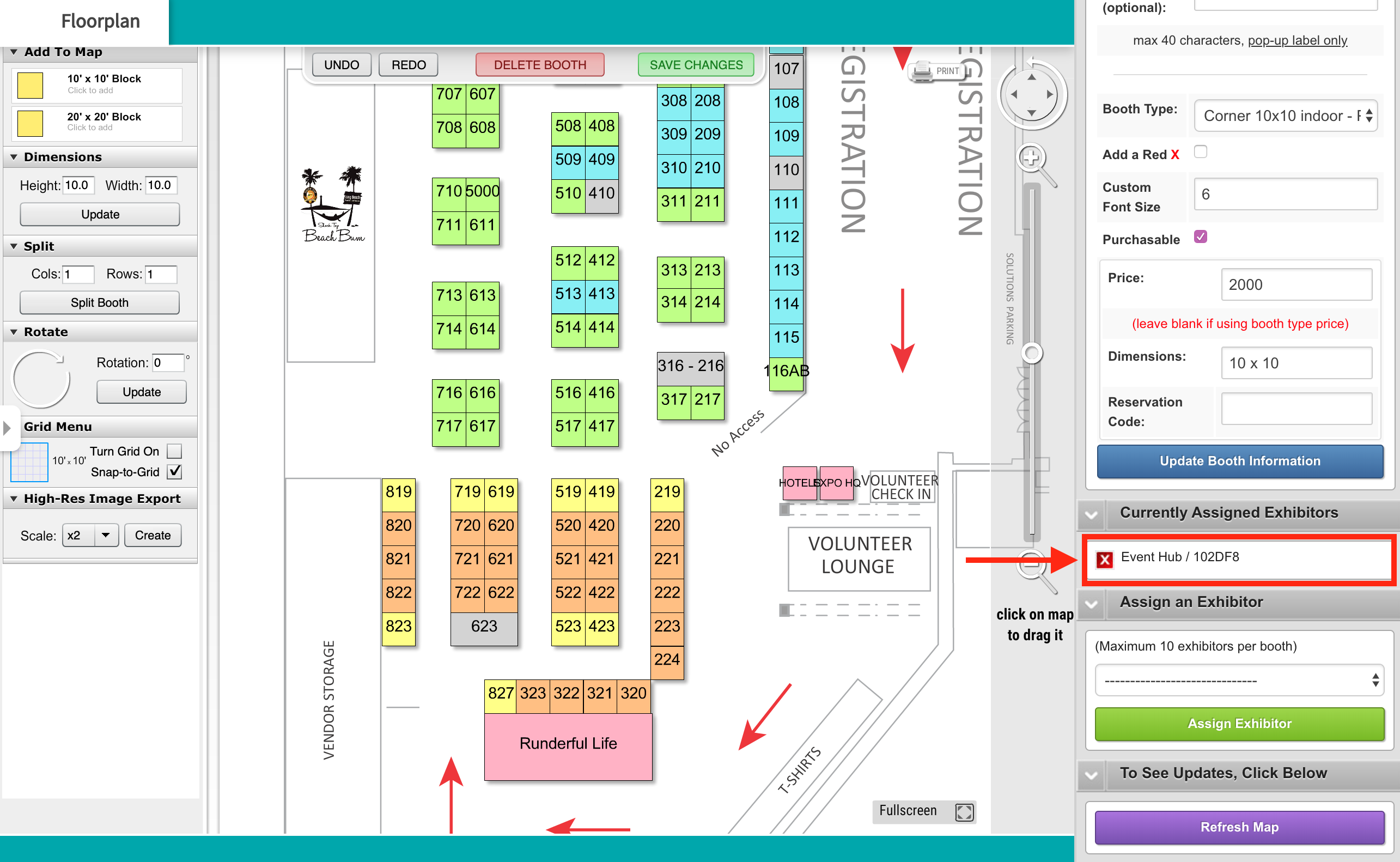 **Important Note
The booth type that you assign an exhibitor to MUST match what is on their order. If it does not, their assignment will not pull through to the Order Summary. To ensure that they are assigned correctly, just make sure that the booth type listed on their order is the same type in the Booth Type dropdown on your map. You can update the booth type, if needed!