Topics Covered:
Accessing Your Document Manager
To access your Document Manager, you first need to log in to eventhub.net. Once you are logged in, hover over your name on the top right of the screen and select My Event Hub from the dropdown. Your Order Summary will be on this page.
The Document Manager can be accessed by clicking Manage Your Paperwork on your Order Summary.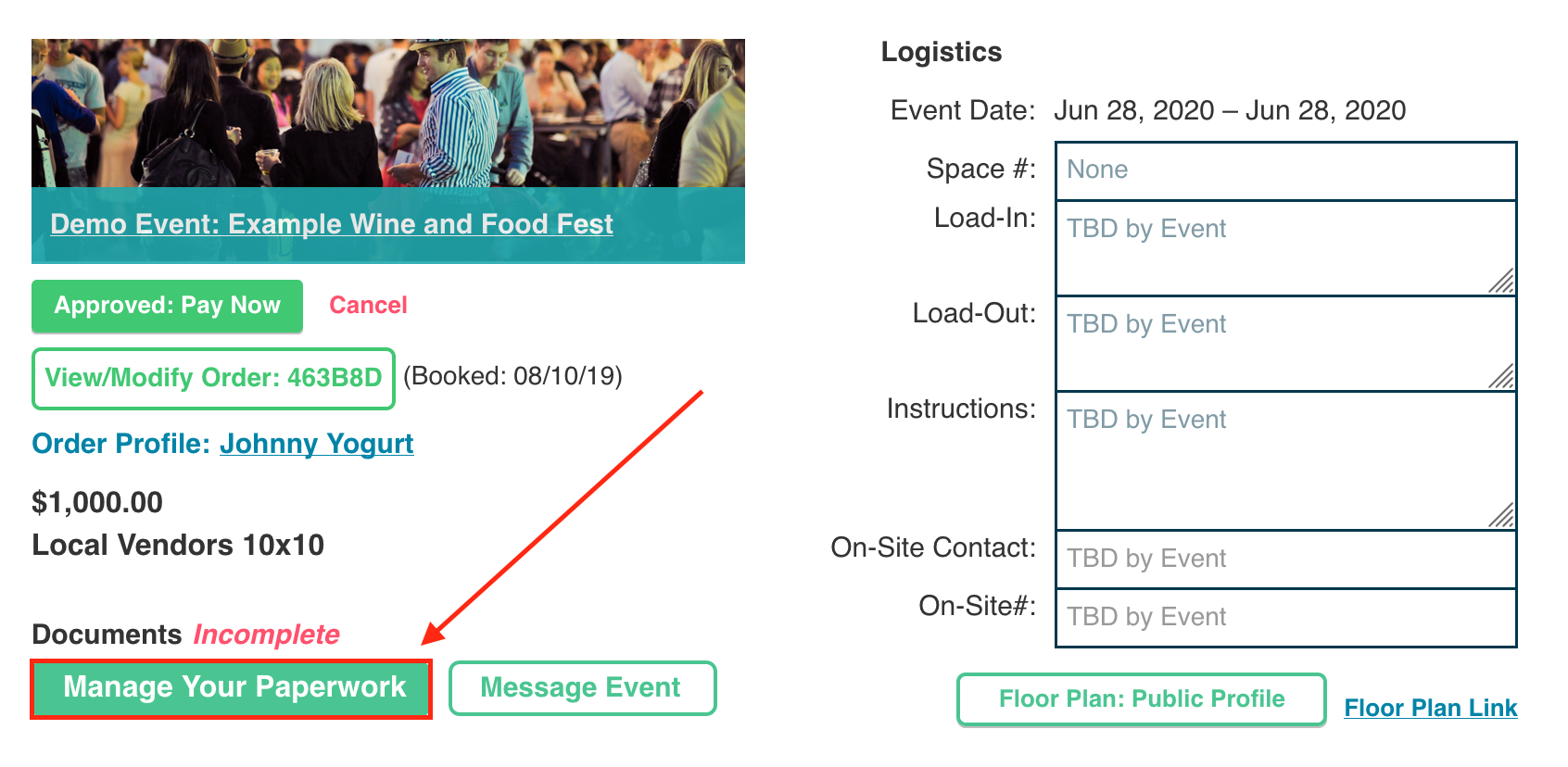 Document Manager - Walkthrough and Features
Basic Features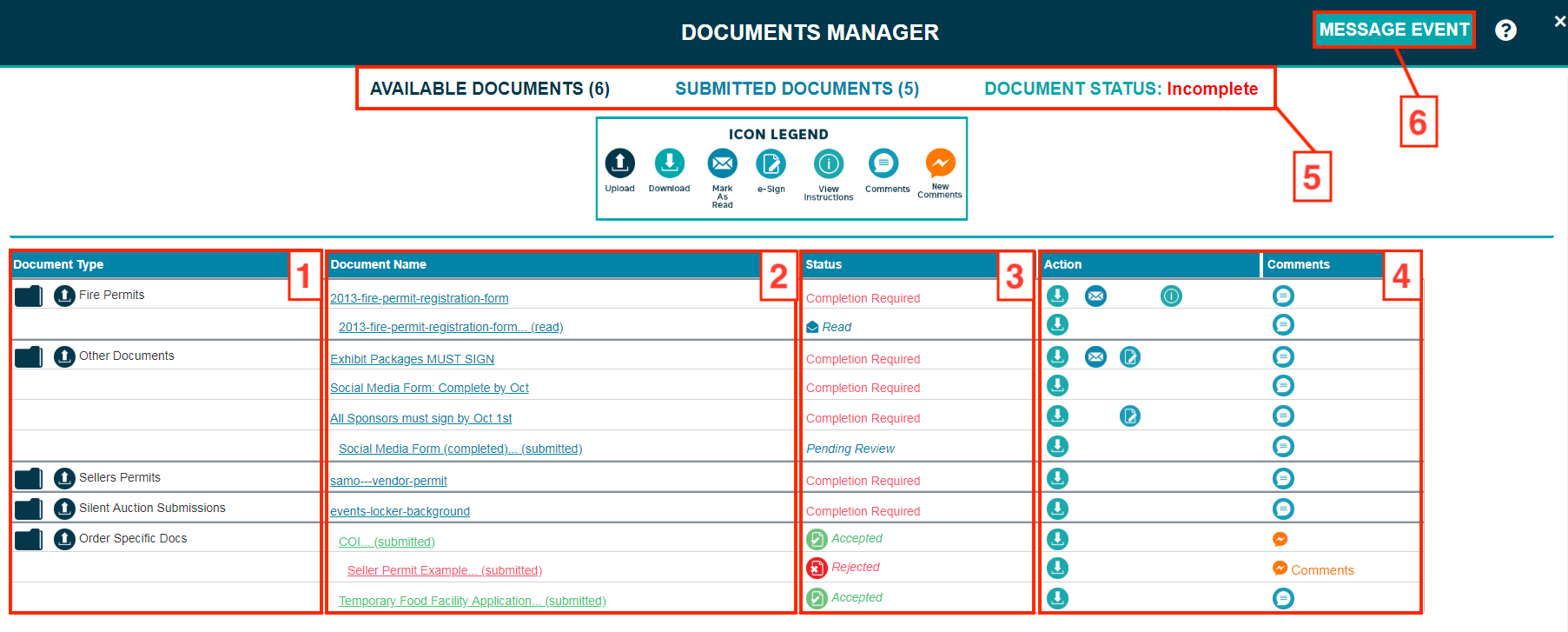 1. Document Types/Folders - There may be one or multiple documents in each folder. Usually, these folders separate documents by type. You can also choose to upload a document to each folder by clicking the Upload icon next to the document name.
2. Document Name - Each document will be listed in this column. You can view each document by clicking on the document name.
3. Status - The status of each document will appear in this column:
Completion Required - Action is required for documents with this status.
Optional/Read Only - Documents with this status are optional and no action is required. However, it is always good to read every document carefully! After reading the optional document, you may want to upload something in return even though it is not required.
Pending Review - Documents with these statuses have been actioned on your part, but have yet to be reviewed by the Event Organizer.
Rejected - This means that the Event Organizer did not accept your document. Be sure to check the comments for their reason why.
Accepted - A document will only have a status of "Accepted" once it has been received, reviewed, and approved by the Event Organizer.
4. Action/Comments - The actions column will show you which actions are available for each document. Each document also has a Comments section that you can access here.
5. Documents Trackers - These statuses will help you keep track of how many documents are available vs. how many you have submitted, and the status of your documents overall. The Event Organizer will mark your documents as "Complete" only after all documents have been submitted, reviews, and accepted.
6. Message Event - If you would like to contact the Event Organizer with questions, click this button to message them directly.
Icon Legend

1. Upload - If you are required or would like to upload a document for the Event Organizer to review, you can click the upload icon next to each document folder. See below for further detail.
2. Download - Click this icon to download a copy of that document.
3. Mark as Read - Some documents may require you to acknowledge that you have read it. Once you have fully read and reviewed a document with this requirement, you can click the Mark as Read icon for that document and confirm that you have read it via a pop-up that will appear.
4. e-Sign - E-sign is not currently available. If a document is marked as e-Sign, you should download the doc, sign on a free digital app or using Preview and then upload back to your folder.
5. View Instructions - This icon will appear for documents where the Event Organizer has added specific instructions. Be sure to review any and all instructions included to make sure your document requirements are completed correctly.
6. Comment - This feature allows you to comment back and forth with the Event Organizer regarding specific documents. You can view the comment history for a document by clicking the blue icon. If there are new comments to view, the icon will change to orange.
Completing Document Requirements
Upload a Document
Most documents are going to require you to upload a document in return. Sometimes you will need to sign and submit a copy of the document provided by the Event Organizer, other times you will need to upload your own document, such as a COI. Be sure to check for any document instructions and contact the event organizer if you have questions about how to fulfill a specific requirement.
To upload a document, click the Upload Icon (the icon with the arrow pointing up) next to the folder you would like to add a document to. A window will pop up where you can select the document from your desktop (much like attaching a file to an email). Once submitted, the document's status will change to "Pending".

E-Sign a Document
E-sign is not currently available. If a document is marked as e-Sign, you should download the doc, sign on a free digital app or using Preview and then upload back to your folder.
If you click the e-Sign button, you will be taken to a page that looks like this:

You cannot use this tool. If you try to, the doc will be corrupted and the Event Organizer will not be able to view it.
Mark a Document as Read
Select documents will only require you to read and acknowledge that you have done so. These documents can be marked as read by clicking the Mark As Read icon. Click on the document name to view the document. Be sure to read each document carefully! Some may have instructions on submitting required paperwork to the county, how to purchase booth extras through a third party, or information on the event's rules and regulations.
If you would like to upload an optional document after reading (uploading an optional form for RV parking, for example), you can follow the directions for uploading a document as usual.

Suggested Articles: